I just checked my Hive Blog and realized that I have written only one single blog in the last 4 months. Does that mean that I have lost interest in Hive or that there was no interesting topics to talk about? Not at all... The plain and simple reason for my temporary absence was that I was lacking time as I had committed almost all available time on a new project I have been working on:
Rabona - a soccer manager game based on Hive.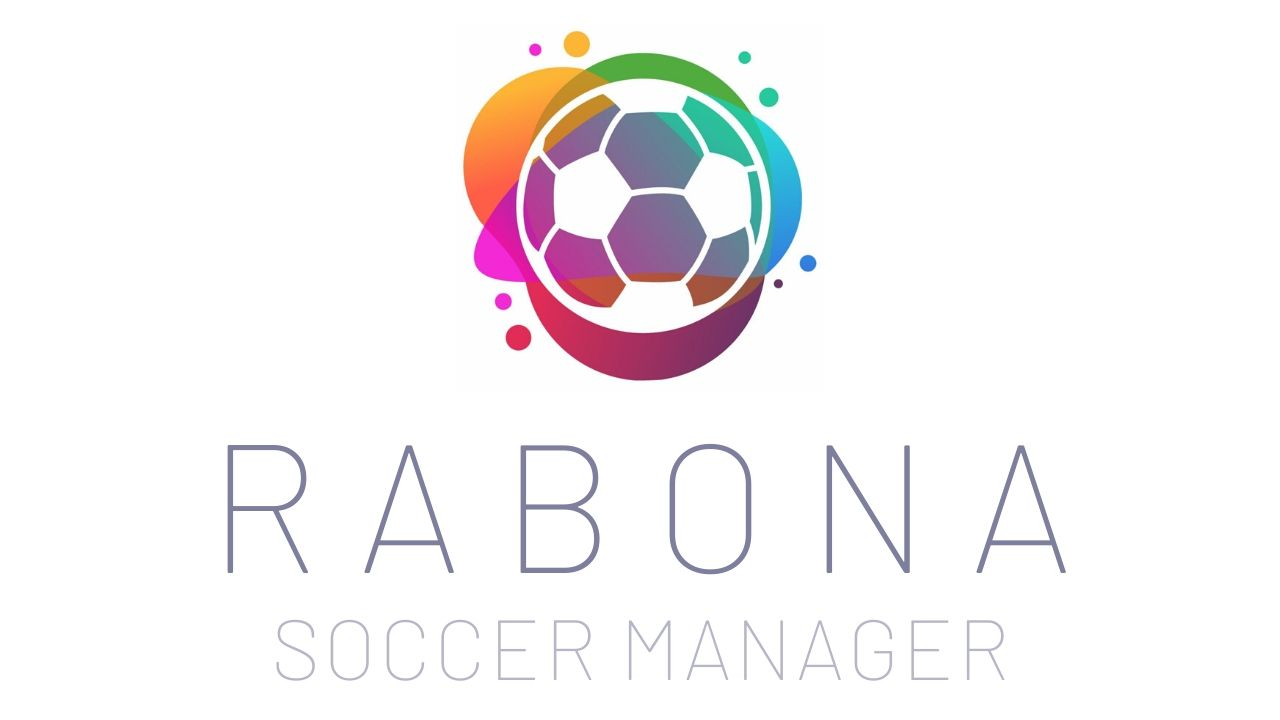 Soccer or football manager games have been my passion since my early days of computer gaming. I played football manager on my Commodore C64, later Anstoss, a German manager game on my Commodore Amiga and I always liked this genre very much. Therefor, it had been my plan to create a blockchain based version of this for a long time.
However, in 2019 I was part of the team that created Nextcolony, a space exploration game and all my focus was on this game. Since early this year, I have finally started to work on my initial idea of a football manager game.
Fortunately, I did not have to start from scratch. The basic concept of the game had been on my mind for a long time and a lot of the basic code from Nextcolony, which handles the interactions with the blockchain, could be reused as it has been open-sourced in the meanwhile.
Also, I have worked with several professional football clubs in the past, so I think I have a good understanding of the most important influence factors which will decide on success or no success.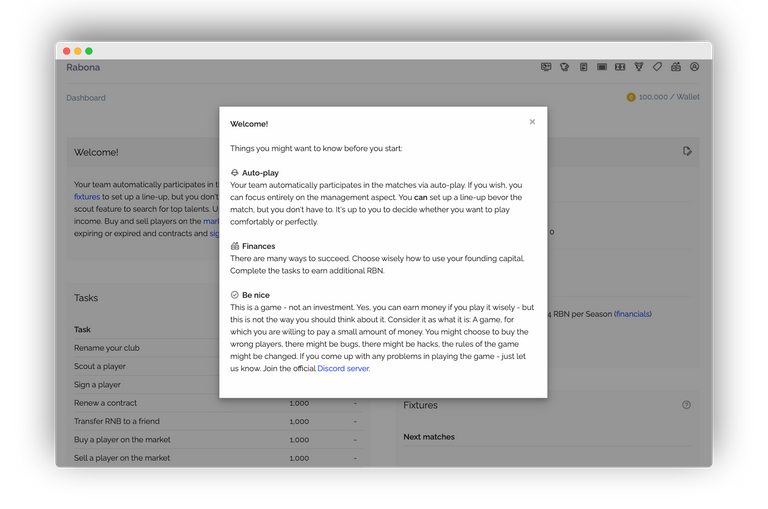 What is it all about?
The basic idea of the game is easy to explain - you manage your own football club (or soccer club for the US users). You scout players, manage their contracts, buy and sell players from and to other users, build up infrastructure such as your stadium, manage ticket prices and set up your line-up for the coming matches. All of this does already work and we will start doing broader tests with first test users soon.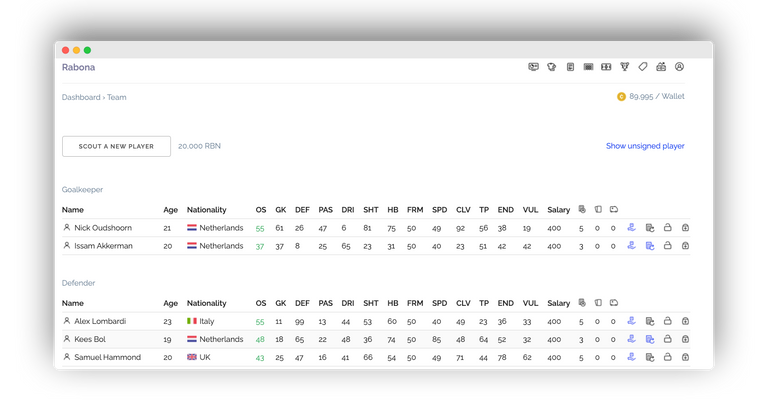 By the way - who is we?
While I started the project initially on my own, I later asked @oliverschmid, with whom I had worked together at Nextcolony and earlier at Splinterland based projects, to join the team and I am glad that he accepted.
What is different from Nextcolony?
Nextcolony has been an amazing experience for me - in many different ways. I learned a lot - technically, but also how to set up such a complex project. And I also realized that there were a few things that - in hindsight - I would have done differently:
One of the things that proved to be difficult with Nextcolony was the usage of bots. While I continue to think along the lines that blocking bots does not fit for a blockchain based game, it clearly does not help the user experience when bots start to dominate the game.
To solve this there is not one single lever which removes bots. Instead, there must be several things that come together:
No free lunch: Nextcolony was free to play and while it took a long time to really start finding planets, building ships and generating Stardust, growth was exponentiell and even a small player would grow very big in the long term. Users made use of the situation and created dozens or even hundreds of accounts, which cost them nothing but eventually became large bot farms. Therefore, Rabona will require users to buy a starter pack, which will make it far less profitable to generate bot farms.
Reduce the amount of necessary clicks, which can be automated: As the empires grew in Nextcolony, the amount of actions to ideally manage your universe grew exponentially. Eventually, you became too large to be able to properly manage your fleet and planets manually. Rabona will require far less interaction. As of now, we plan for two matches per day, so it should be easily manageable to set your line-up manually. But if even that is too much work on the one or other day, line-ups will be set automatically based on the overall strength parameter of your players. While this will not be the most ideal line-up, it should help to reduce the need for manual work.
Lifecycle matters: Other than in other games, nothing is for ever in Rabona.

You do not own the players that play for you - slavery has been abandoned also in Rabona - but sign contracts with them. The typically last for 3-5 seasons, which should be 2-4 months in real life terms. While you can extend the contracts with your players before somebody else can sign them, their salary will adapt to the market level.
Players age. This means that young players will get better initially, but after they reach their peak at on average age 29 to 30, their stats will get weaker. At the age of 39 players will retire at the very latest. This means that even if you have a very strong team today, it needs to be renewed constantly.

Built in balancing: if you manage to get advanced to higher leagues, your income will rise. You will have more visitors, get more TV money, earn more catering income and merchandising and sign higher sponsoring contracts. However, in order to successfully defend you league or even increase the league level further, your team will need to be above average. To reach and sustain this, players will need to either scout a lot of players, buy top players a the market or sign players for which the contract has expired. All of this will require higher costs. Also, salaries for better players will rise over time.
Will all of this work out? We will know soon. I will try to keep you updated at least once a week with new details.
Best regards,
Tim