¡Hola a todos! Les quiero mostrar el transportador que mandé a hacer para mi querido gatito Ikki.
Hello everybody! I want to show you the transporter that I had made for my dear kitty Ikki.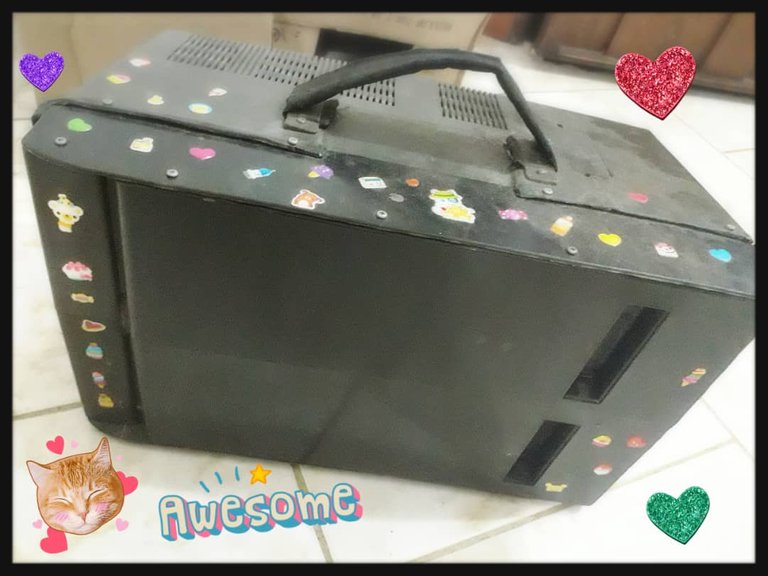 Por si no lo han notado, está hecho de partes ensambladas de televisores que ya no servían. El señor al que se lo encargué es muy conocido por ser bastante ingenioso, yo lo consideraría una especie de inventor. He visto muchas de sus creaciones y he quedado sorprendida.
In case you haven't noticed, it's made from assembled parts of televisions that no longer worked. The man I commissioned it from is well known for being quite ingenious, I would consider him some kind of inventor. I have seen many of his creations and have been amazed.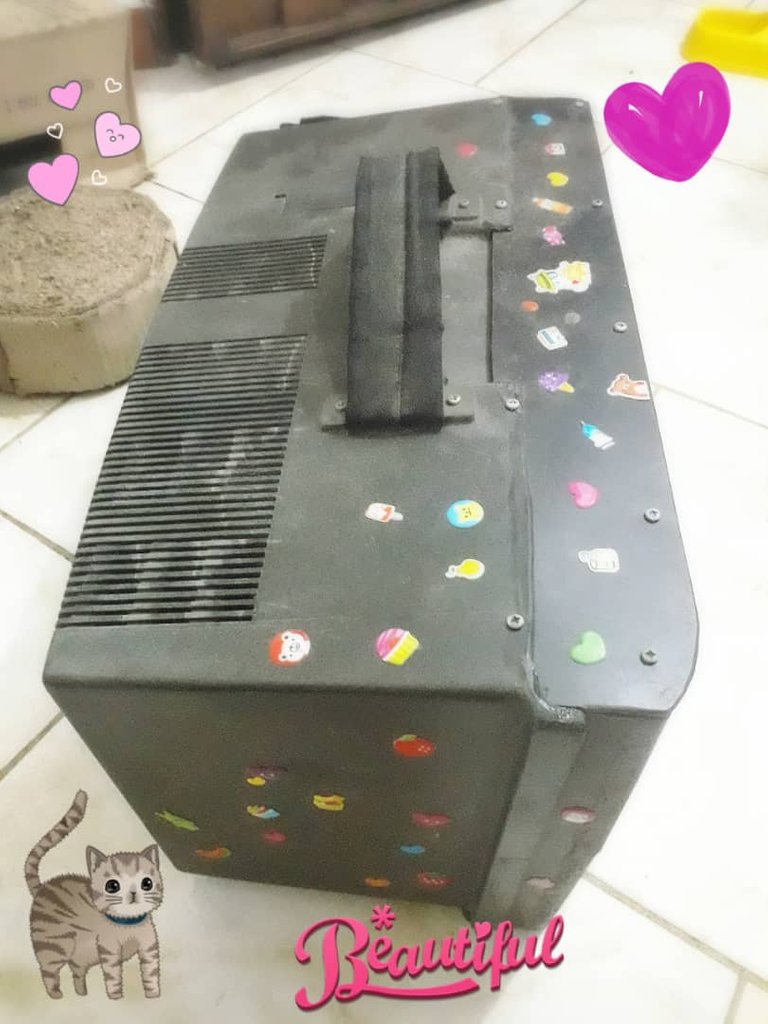 Como mi gato es algo inquieto, tenía miedo de movilizarlo a sus consultas veterinarias en una caja, dado que la transportadora que vi en las tiendas, se salía de mi presupuesto. Así que busqué por internet ideas de transportadoras artesanales y me encontré con ideas muy buenas.
As my cat is somewhat restless, I was afraid to transport him to his veterinary consultations in a box, since the transporter that I saw in the stores, was out of my budget. So I searched the internet for ideas of artisanal conveyors and I came across very good ideas.

😻😻 Aquí unos ejemplos: / Here are some examples: 😻😻
Con un bidón o pote o garrafón de agua se puede armar una mini jaula, ideal para mascotas pequeñas.
With a drum or pot or jug ​​of water you can build a mini cage, ideal for small pets.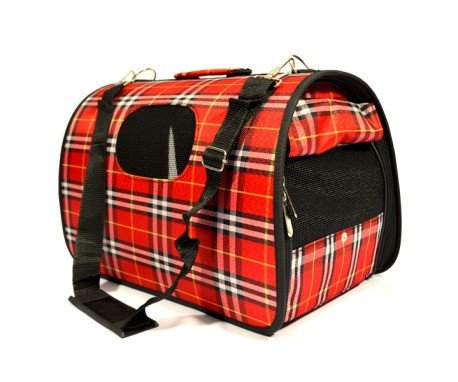 Fuente
Los de tela en verdad me llamaban la atención y dado que soy costurera, podía hacérselo yo misma. Pero como no contaba con mi máquina de coser en donde ando residenciada, ni muchos menos el tipo de tela adecuado, la idea quedó descartada por los momentos.
The fabric ones really caught my attention and since I'm a seamstress, I could do it myself. But since I did not have my sewing machine where I live, much less the right type of fabric, the idea was discarded for the moment.
Esta fue la idea que me pareció más factible de realizar. Pero como no contaba con un tobo o cubeta dañado, daba dolor utilizar uno bueno para éste fin.
This was the idea that seemed most feasible for me to carry out. But since it did not have a damaged chute or bucket, it was painful to use a good one for this purpose.

Como no poseía con los materiales para hacer nada de esto yo misma, acudí a éste señor y la verdad no me arrepiento. Le mostré las imágenes de transportadores artesanales e inmediatamente su mente comenzó a trabajar, me dijo: "Ya sé como lo voy a hacer" y esas palabras, me emocionaron bastante.
As I did not have the materials to do any of this myself, I went to this man and I don't really regret it. I showed him the images of artisanal transporters and immediately his mind began to work, he told me: "I know how I'm going to do it" and those words moved me a lot.
El resultado fue más que increíble. No podía creer lo que tenía ante mis ojos. Había utilizado varios televisores dañados que tenía en su casa, el agarradero de una maleta vieja y varios tornillos.
The result was beyond incredible. I couldn't believe what was in front of my eyes. He had used several damaged televisions that he had in his house, the handle of an old suitcase and several screws.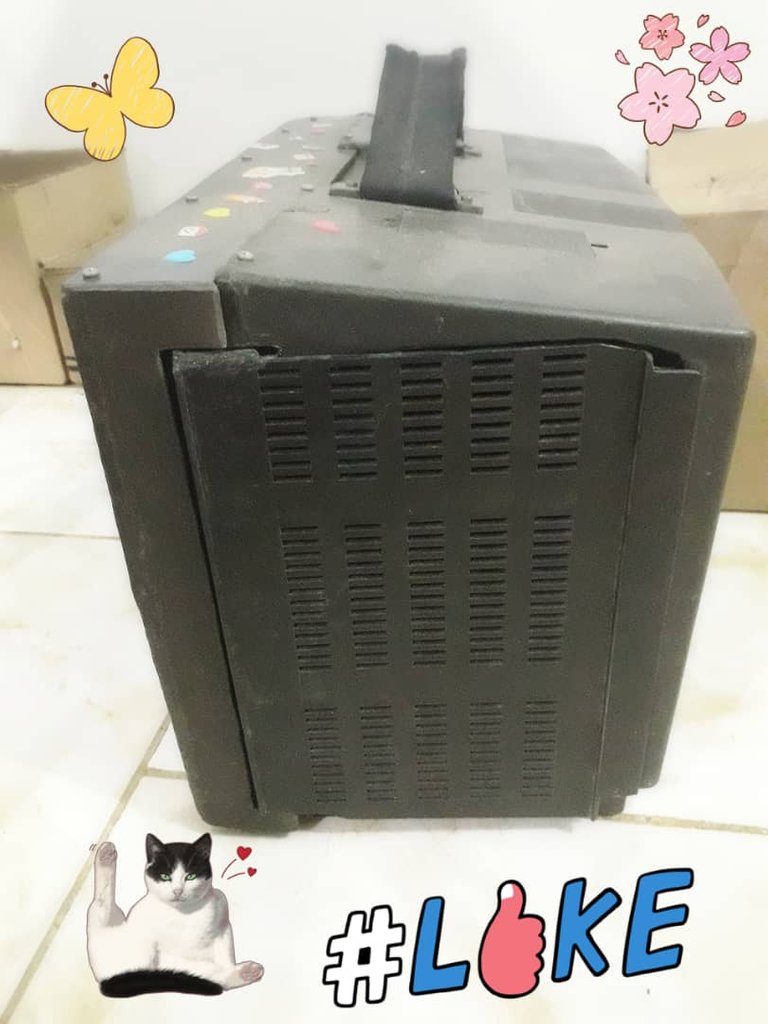 Lo que más me impresionó fue la puerta. Se las ingenió para hacerla de cerrado y abre fácil pero sólo para los humanos. Una vez dentro y cerrada la puerta, el gato queda asegurado.
What impressed me the most was the door. He managed to make it easy to close and open, but only for humans. Once inside and the door closed, the cat is secured.
Para su mayor confort, le coloqué dentro su frazada. Como tiene muchas aberturas, el oxigeno puede ingresar sin problemas.
For her comfort, I placed her blanket inside. As it has many openings, oxygen can enter without problems.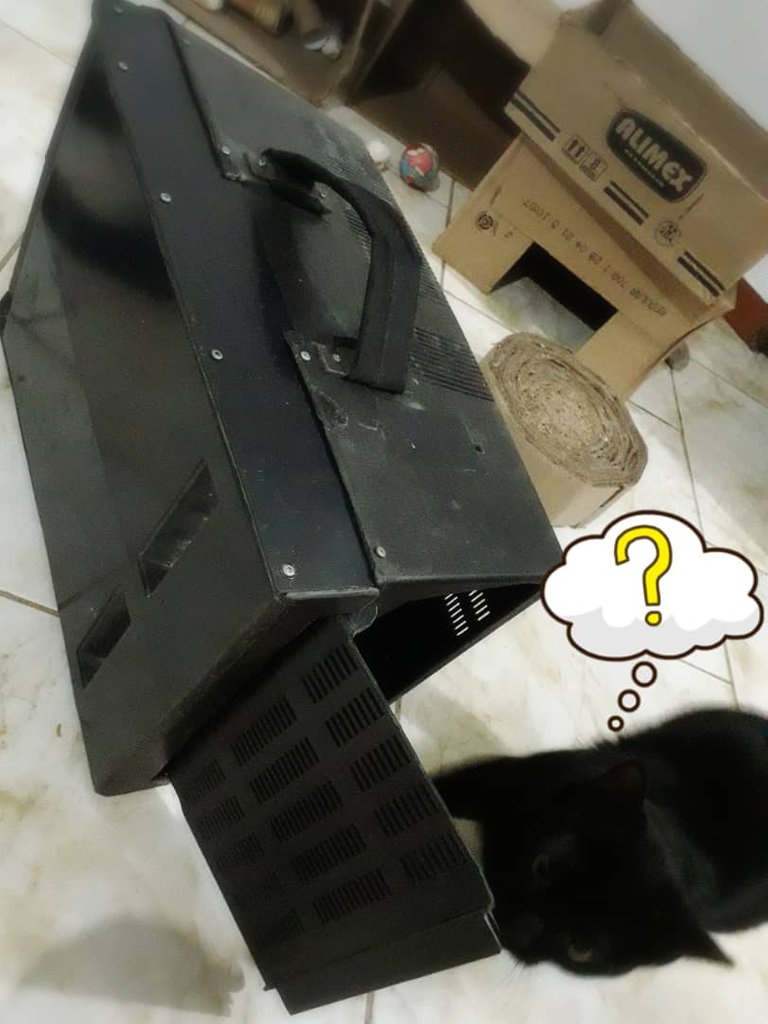 Mi gatito, el día que conoció su transportadora estaba muy curioso. Se lo decoré con Stickers, aunque, a la primera oportunidad se los arranca y juega con ellos.
My kitten, the day he met his transporter, he was very curious. I decorated it with Stickers, although, at the first opportunity, he rips them off and plays with them.
Y lo inesperado fue que ¡Le encanta echar largas siestas dentro! Es como si fuera su habitación. Cuando tiene mucho sueño y la luz de la habitación parece incomodarle, va directo a meterse en su transportador y duerme por horas. Lo gracioso es que si tiene los ojos cerrados, es difícil verlo dentro. La magia de las panteritas 😂
And the unexpected thing was that he loves to take long naps inside! It's like it's your room. When he is very sleepy and the light in the room seems uncomfortable, he goes straight to his transporter and sleeps for hours. The funny thing is, if your eyes are closed, it's hard to see inside. The magic of panthers 😂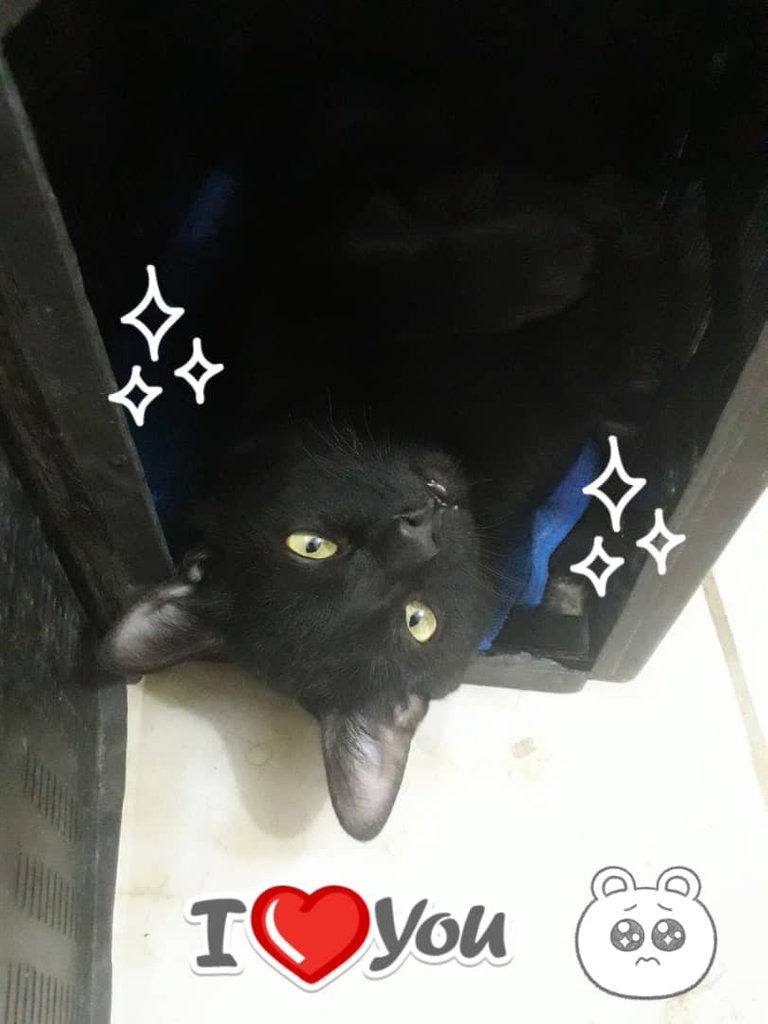 Ya lo he llevado a su primera consulta y fue bastante cómodo de llevar. Todos andaban fascinados con su pintoresca transportadora. De verdad, hay personas como ese señor, cuyo ingenio es sorprendente.
Muchas gracias por visitar mi post. Espero que les parecido interesante 😃
¡Hasta una próxima oportunidad!
I have already taken it to your first consultation and it was quite comfortable to wear. Everyone was fascinated with his picturesque transporter. Really, there are people like that man, whose wit is surprising.
Thank you very much for visiting my post. I hope you found it interesting 😃
Until next time!