¡Hola a todos mis compañeros felinos! Ha llegado el mejor día de la semana, donde podemos mostrar lo majestuosos que somos y capturar en fotografías todas nuestras aventuras. Yo por mi parte estoy recuperándome de una salida inesperada que tuve el día de ayer cuando me llevaron a la fuerza a un lugar llamado "veterinaria".
Hello to all my feline companions! The best day of the week has arrived, where we can show how majestic we are and capture all our adventures in photographs. For my part, I am recovering from an unexpected departure that I had yesterday when they took me by force to a place called "veterinary."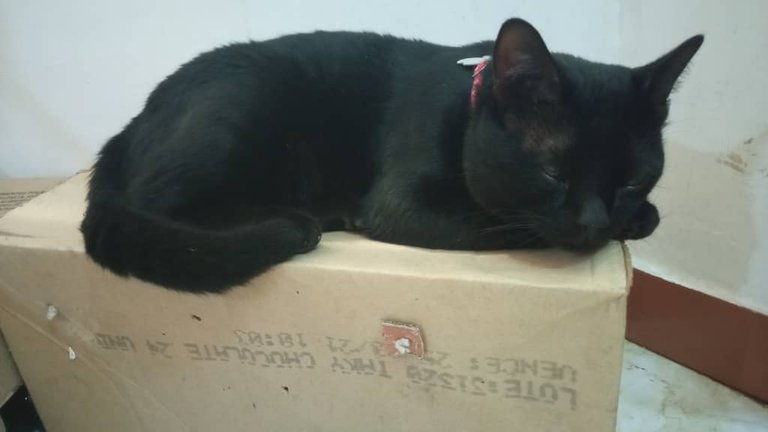 Mi mamá humana vio esto en la veterinaria y quedó fascinada, dice que está hecho de pelos de gatos. Los humanos son muy extraños, no sabía que recolectaban nuestros pelitos para hacer gatos falsos, no se dejen peinar 🙀
My human mom saw this at the vet and was fascinated, she says it's made from cat hair. Humans are very strange, I didn't know that they collected our hairs to make fake cats, don't get combed 🙀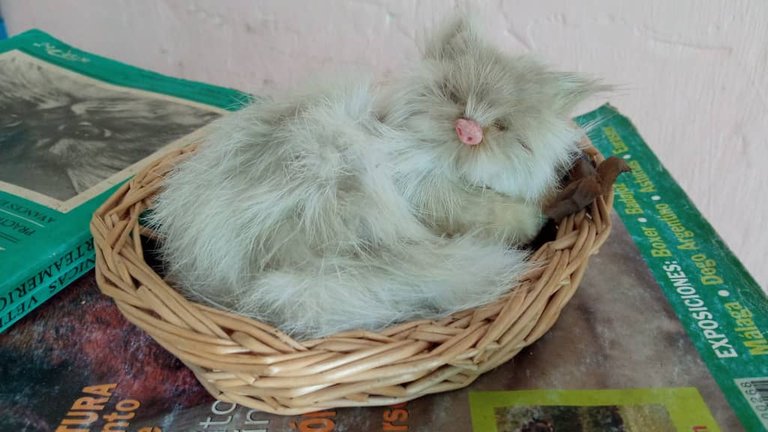 Mis humanos salieron hoy y me dejaron solo cuidando la casa. Saben que soy buen guardián, pero no me gusta quedarme tan solo. Me pongo a chillar un buen rato hasta que vuelven. Por lo general se toman de tres a cuatro horas en comprar las provisiones. Es el único día en que salen los dos y el único día en que me dejan solito. Bueno, es un descanso de los humanos, supongo.
My humans went out today and left me alone looking after the house. They know that I am a good guardian, but I do not like to be so alone. I scream for a long time until they come back. It usually takes three to four hours to buy supplies. It's the only day the two of them go out and the only day they leave me alone. Well, it's a break from humans, I guess.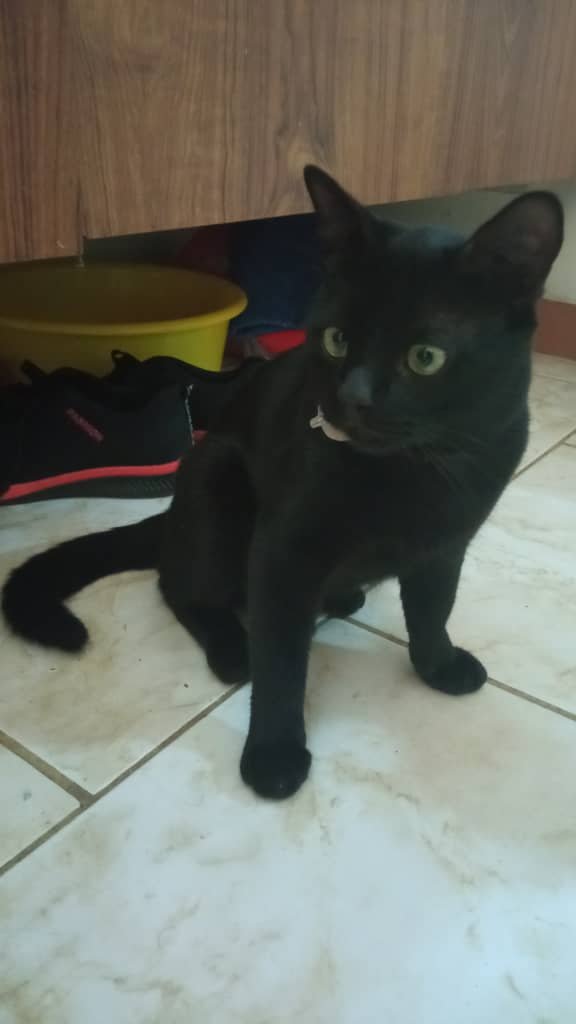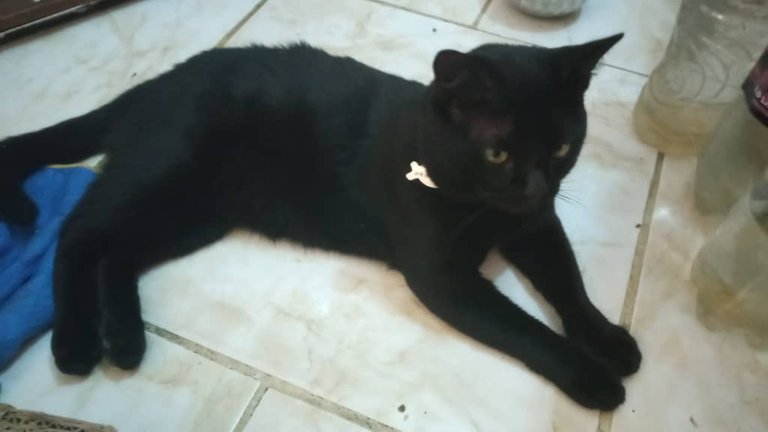 Me porto muy bien esas horas. Pero me gusta más cuando regresan pronto. Dormir no es lo mismo cuando no están ellos. Sobre todo porque me gusta mucho dormir sobre mi papá humano. Es bastante cómodo. Cuando él está jugando yo me subo a sus piernas y me acomodo para dormir.
I behave very well those hours. But I like it better when they come back soon. Sleeping is not the same when they are not there. Especially since I really like to sleep on my human dad. It is quite comfortable. When he is playing I get on his legs and settle down to sleep.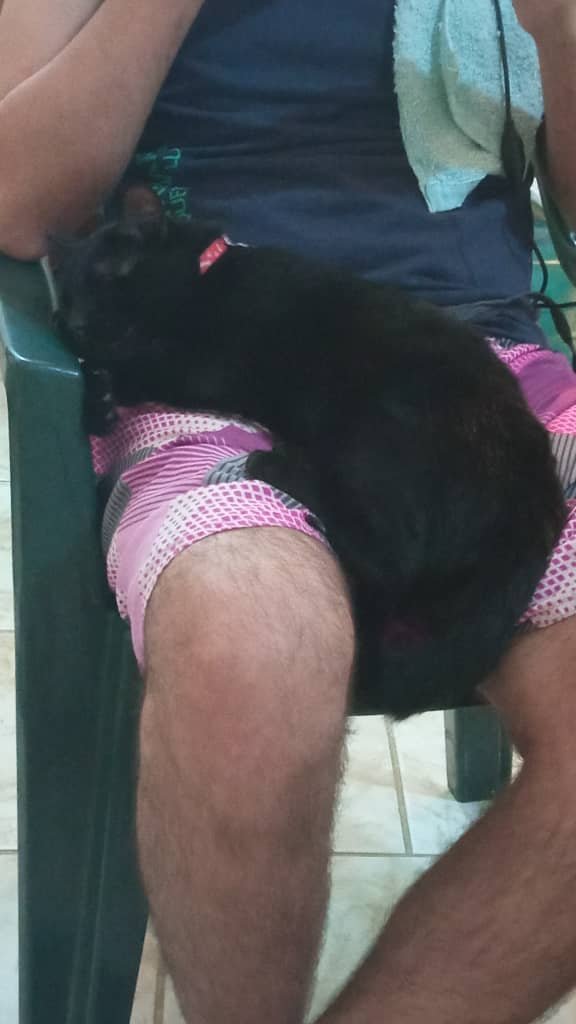 Cuando estamos todos juntos me siento seguro. Caigo en un sueño profundo. Bueno mis amigos gatunos, los dejo que ya es hora de dormir (otra vez) Y ustedes ¿Tienen un lugar preferido para dormir?
When we are all together I feel safe. I fall into a deep sleep. Well my cat friends, I let you, it's time to sleep (again) And you, do you have a favorite place to sleep?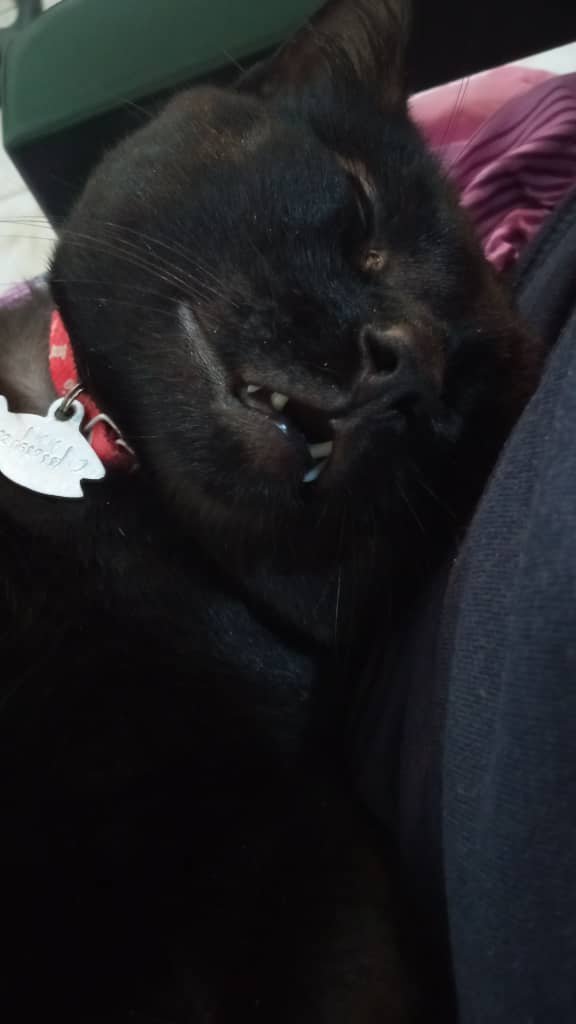 ¡Hasta un próximo Caturday!
Until next Caturday!