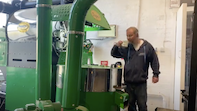 ---
Finally the UK has returned back to type, cold wet and windy. It's a welcome break for a goodnight sleep, although down South they have had 70 miles per hour winds blowing campers tents to bits and flooding in that London village so bad that they wish they didn't have those new fangled plumbed in toilets and were still using the good old privy bucket emptied out the window.
Last Saturday was still quite comfortably mild, and made for a good afternoon walking through Judy woods, always new things to see and who doesn't need a healthy walk now and again (well apparently the lady who reversed out of her drive this morning on me - only to drive 100 yards - literally around the corner - to park in front of the InPost lockers I was going to fill - went to the shop for a pint of milk - then turned around (badly) to drive back round the corner to her house - the mind boggles!)
Sunday a more sedate trip to Wellhome park in Brighouse, with a substantial fun fare in place although there was no interest from the boy in it. Monday back to the grind, and the cooler weather has seen coffee sales climb again so a busy week for both roasters - although they are still getting hot with the milder weather making harder work to cool the finished roast.
Good news though, the White Rose Coffee Roasters boxes finally arrived, all six pallets of them. They look pretty good too, it's nice to have some branding finally to enhance our coffee experience.
And that's been the week, busy busy as usual no time to slack - always another question to answer or order to ship.
https://whiterosecoffeeroasters.co.uk/collections/specialty-coffee/products/brazil-nuts-hive-blockchain-arabica-roasted-coffee-1kg
https://whiterosecoffeeroasters.co.uk/
---
▶️ 3Speak