¡Hola a todos! Hoy vengo a mostrarles un dibujo de un anime que me encanta bastante. Comencé a ver Jojo gracias a un amigo, que aunque él no la había visto del todo, sabía que a mí me gustaría (por el diseño de personajes). Fue así como la empecé a ver y me volví fanática de inmediato. Vi las primeras cuatro temporadas sola, pero eso no lo hizo menos divertido. Para la parte cinco, ya había logrado que mi novio se enviciara con la serie, así que vimos esa temporada juntos. Uno de los personajes que más me gustan es el Stand de Bruno: Sticky Fingers. Su poder me parece bastante interesante, ya que permite aparecer cierres a lo que sea, muy útil para guardar cosas ja ja
Hello everybody! Today I come to show you a drawing of an anime that I love a lot. I started to see Jojo thanks to a friend, who although he had not seen it at all, knew that I would like it (because of the character design). That's how I started to see it and I immediately became a fan. I watched the first four seasons alone, but that didn't make it any less fun. By part five, I had already gotten my boyfriend hooked on the show, so we watched that season together. One of the characters that I like the most is Bruno's Stand: Sticky Fingers. Its power seems quite interesting to me, since it allows closures to appear to whatever it is, very useful for storing things ha ha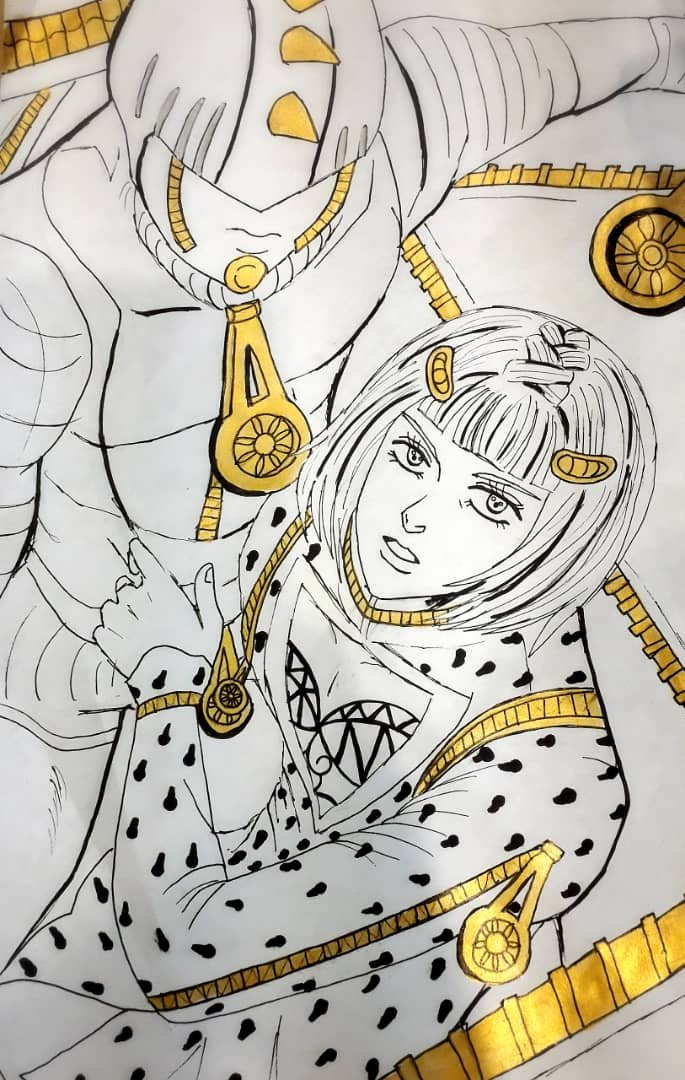 Tomé de referencia un fanart muy lindo que me encontré por la web (no sé donde dejé ese archivo ja ja), me costó un poco hacer el dibujo porque tenía mucho tiempo sin dibujar en tradicional. Ya cuando me cansé de tratar de darle forma, me aventuré a remarcar todo con un marcador punta fina. El que tenía en ese momento era 0.8, así que se me hizo un poco complicado trazas las líneas más delgadas, porque muy fino no era ja ja
Tomé de referencia un fanart muy lindo que me encontré por la web (no sé donde dejé ese archivo ja ja), me costó un poco hacer el dibujo porque tenía mucho tiempo sin dibujar en tradicional. Ya cuando me cansé de tratar de darle forma, me aventuré a remarcar todo con un marcador punta fina. El que tenía en ese momento era 0.8, así que se me hizo un poco complicado trazas las líneas más delgadas, porque muy fino no era ja ja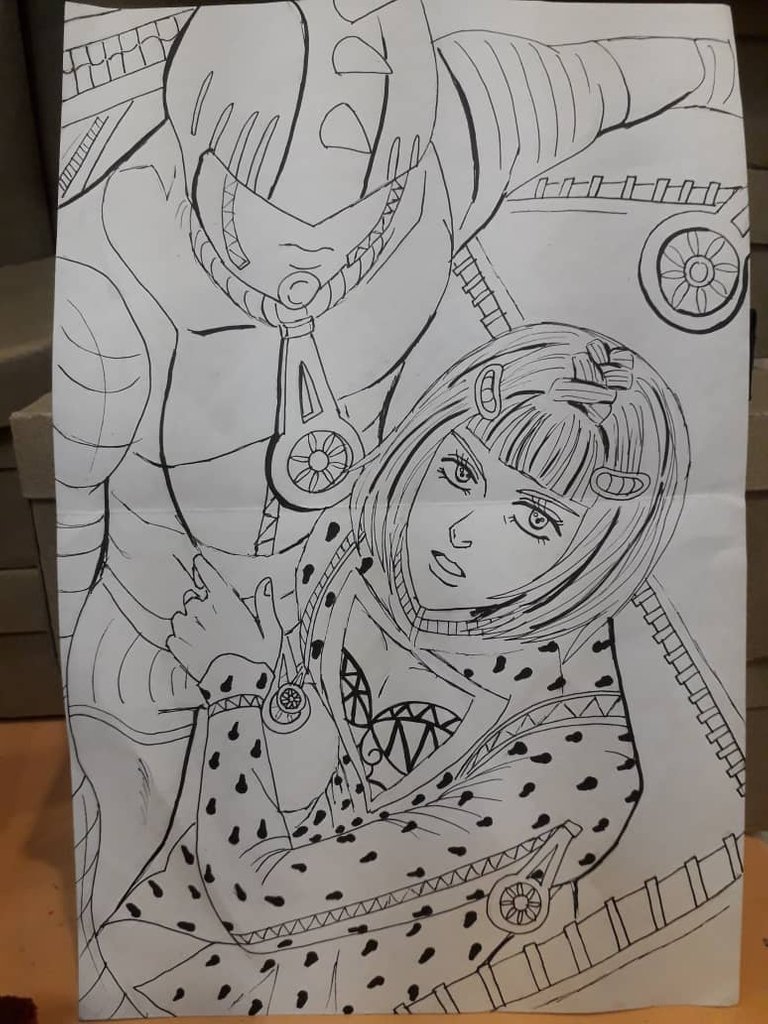 A ese punto ya estaba muy contenta con el resultado. Le mostré el dibujo a alguien que conozco que dibuja increíble y me aconsejó darle mayores detalles con el marcador. Pero como tenía miedo de acabar dañándolo, decidí no arriesgarme y enfocarme en otra cosa. Fue entonces cuando me fijé en la pintura dorada que tenía en el estante. Tomé un pincel y pinté todo lo que en el fanart estaba pintado con tonalidades amarillentas.
At that point I was very happy with the result. I showed the drawing to someone I know who draws amazing and he advised me to give it more detail with the marker. But since I was afraid of ending up hurting him, I decided not to risk it and focus on something else. It was then that I noticed the gold paint on the shelf. I took a brush and painted everything that was painted in yellowish tones in the fanart.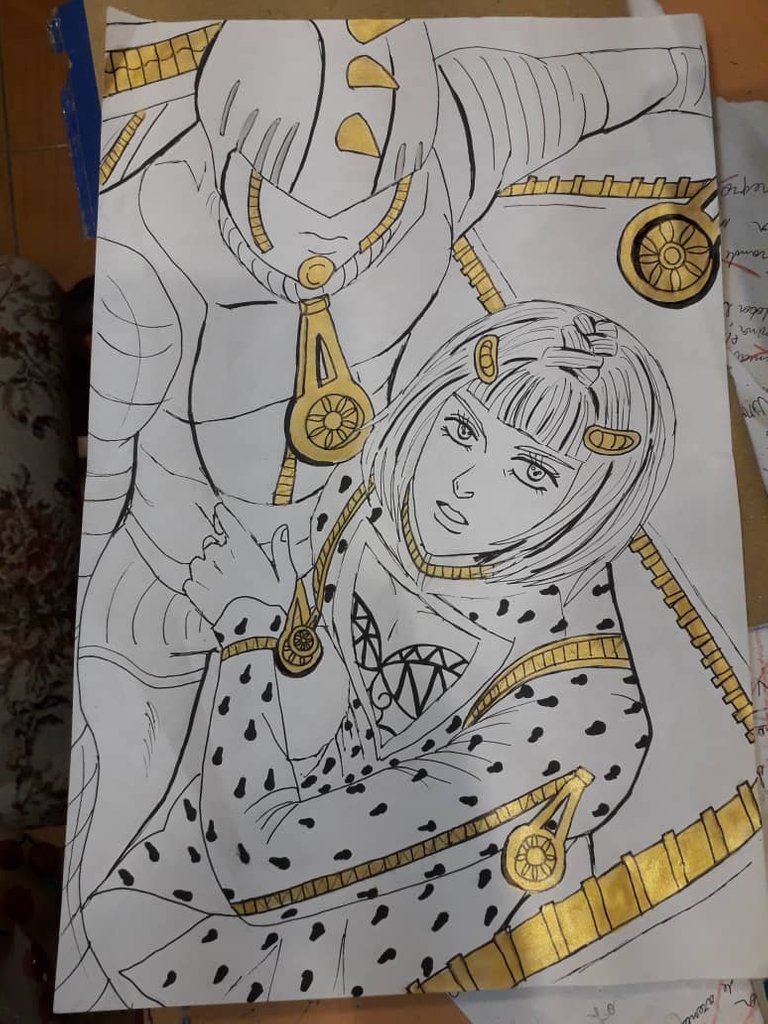 Pienso que fue una decisión acertada usar esa pintura en los cierres. La pintura dorada sobre la hoja de papel destaca bastante. Ciertamente la seguiré usando en próximos dibujos. Confieso que originalmente pensaba usar escarcha o brillantina en el dibujo, pero creo que usar la pintura dorada fue mucho mejor.
I think it was a wise decision to use that paint on the closures. The gold paint on the sheet of paper stands out quite a bit. I will certainly continue to use it in future drawings. I confess that I originally intended to use glitter or glitter in the drawing, but I think using the gold paint was much better.
Muchas gracias por haber visitado mi post. Espero que les haya parecido interesante.
¡Hasta una próxima oportunidad!
Thank you very much for visiting my post. I hope you found it interesting.
Until next time!