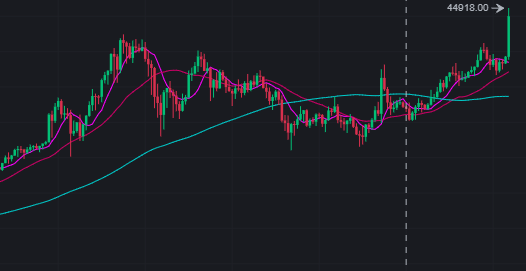 I woke up this morning to see a huge spike on Binance. Bitcoin has reached a new all time high of over $44,000 USD. Wow.
So many were saying the run is over a few weeks ago, but it doesn't look like it. It doesn't look like BTC stopped at a 'dead-cat bounce' near $35,000, as a surge of buying this past week or so sent BTC back to the $40,000 range it was at weeks before.
The chart in the screenshot is the 6h chart. You can see that today's rise is the second time so much buying happened in 30 minutes in the past month or so bull run for BTC. The other day was on January 29th, which saw some retraction. And that was for going from $33-$37,000.
Going from $39 to $44,000 is something nice to see. Just when you think the past will be repeated -- that we already saw the twin peaks in early and mid January and that it was downhill from then on out -- well think again! This is human behavior, and it can't be predicted with certainty.
Between the selling pressure from the speculators from the the past 4-5 years taking their profits (and hoping to buy in much lower), and the new mainstream legacy money of investors buying in now, it looks like the investors and winning out over the speculators. At least, for now.
Where will BTC go from here? Is this the top until the next few years create another bull run? Are we going to see BTC go back below $30k for a while? Or is the buying going to continue for a while more? Will BTC go back below $30k again? Who knows :P It's fun to guess and try to predict the future though hehe.
Edit: Apparently this is because Tesla announced they will accept BTC and invested $1.5 billion. According to RT:
The largest cryptocurrency, bitcoin, surged to a record above $43,000 on Monday on the news that Tesla invested $1.5 billion in the digital asset and expects to start accepting the cryptocurrency as payment.
The crypto was trading more than eight percent higher, at $42,581 as of 13:00 GMT, after briefly surpassing $40,000 on Saturday. It is now up 15 percent compared to seven days ago and has closed in on an all-time high reached in early January.
"There will be pullbacks, maybe even to retest the top of the flag as support," popular crypto trader Scott Melker said on Twitter, adding: "But technically this is a confirmed breakout that should take $BTC to 63K eventually. Disclaimer – patterns rarely reach their targets, but the rules are the rules."
It is really confirmed? Is it really going to go over $60,000 in the next few weeks or months? Hmmm.
This guy speaks of this as if it's a "rule", as if what we see now means $60,000 is the next target in the short term. Where are these rules written? In the fabric of market history? Well, I don't believe these "rules" are set in stone, but who knows where we will end up. It's certainly possible.
Who is going to win this year? The speculators or the investors? Or a better question might be, when will the sellers overtake the buyers and force BTC to drop drop drop?
Posted Using LeoFinance Beta