¡Hola todos! Le quiero mostrar el hermoso bolso que me compré. En cuanto lo vi, quedé fascinada. Y es que el diseño de la tela es de, nada más y nada menos que... ¡Tacitas de café! 😍
Hello everyone! I want to show you the beautiful bag that I bought. As soon as I saw it, I was fascinated. And is that the design of the fabric is, nothing more and nothing less than ... Cups of coffee! 😍
Les contaré como fue nuestro encuentro: Estaba caminando de regreso de mi trabajo de la mañana (que era en un taller en el centro de la ciudad), y una de las tiendas me llamó la atención, ya que tenía bolsos pequeños a sólo 4$. Tenía pensado comprar uno con diseño de unicornio o de gato, ya que me gustan las cosas tiernas, pero de pronto, como una llamada, mis ojos fueron hasta aquel que tenía estampado de café.
I will tell you how our meeting was: I was walking back from my work in the morning (which was in a workshop in the center of the city), and one of the stores caught my attention, since it had small bags for only $ 4 . I had thought about buying one with a unicorn or cat design, since I like cute things, but suddenly, as a call, my eyes went to the one with the coffee print.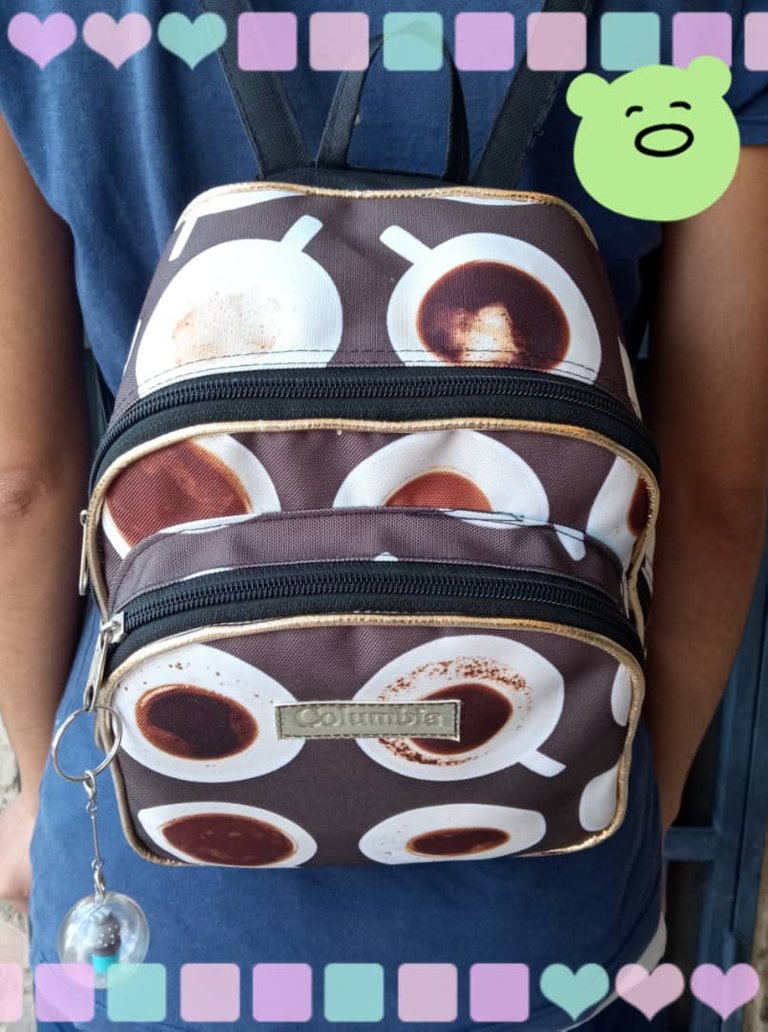 Fui casi corriendo hasta él. Es difícil o casi imposible conseguir cosas con temática cafetera, así que lo quería con todo mi ser. Pero no lo compré ese mismo día. Soy muy metódica a la hora de gastar mi dinero. Colocó los gastos por prioridades y a veces, dejo mis gustos de lado 😓.
I almost ran up to him. It's hard or almost impossible to get coffee-themed stuff, so I wanted it with all my being. But I didn't buy it that same day. I am very methodical when it comes to spending my money. He put the expenses by priorities and sometimes, I put my tastes aside 😓.
Ya en la residencia, lo pensé más detalladamente. Necesitaba con urgencia un bolso nuevo, ya que el que llevaba al trabajo era prestado y no iba para nada con mi estilo. Aparte que era algo demasiado lindo para pasarlo por alto, siendo que adoro el café por sobre todas las cosas. Fue así como casi al día siguiente, fui de nuevo hasta la tienda. Agradecí a los cielos que siguiera allí, esperándome. Mientras pagaba, la mascarilla ocultaba el tamaño de mi emoción. Gritaba por dentro ¡Tenía mi bolsito de café en mis manos!
At the residence, I thought about it in more detail. I urgently needed a new bag, since the one I carried to work was borrowed and did not suit my style at all. Besides that it was something too cute to ignore, being that I adore coffee above all things. It was like this that almost the next day, I went back to the store. I thanked the heavens that he was still there, waiting for me. As I paid, the mask hid the size of my emotion. I was screaming inside. I had my coffee bag in my hands!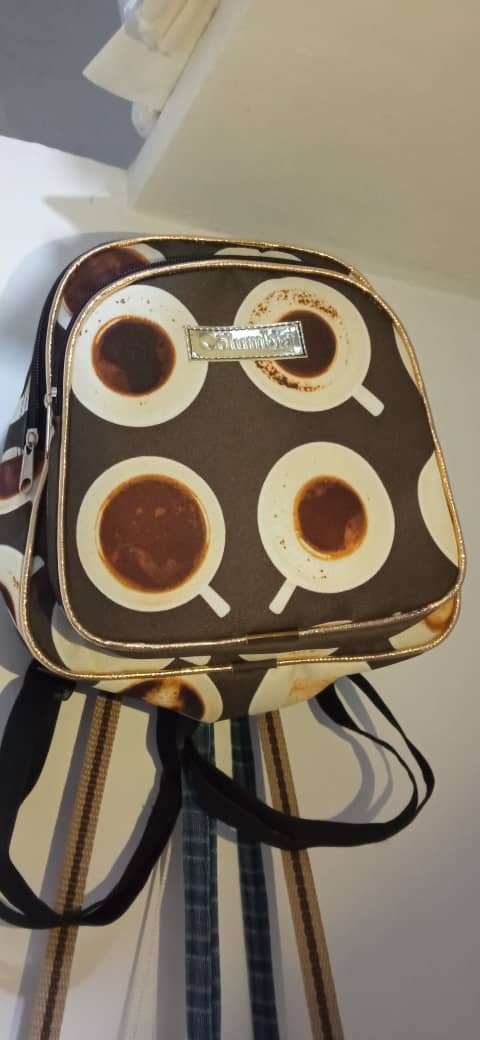 No me arrepiento de haberme dado ese gusto, es un bolsito hermoso. Está hecho de una buena tela y los cierres funcionan a la perfección. De igual manera, trato de no forzarlo porque quiero que su vida útil sea lo más larga que se pueda.
Es, sin duda, de las mejores compras que he hecho. Recordemos que no es malo que nos consintamos un poco, si nos esforzamos diariamente en nuestros trabajos, hacer una compra que esté fuera de nuestra lista de necesidades, no es nada malo, mucho menos si se trata de algo que nos hará felices. Yo soy feliz cada vez que salgo a la calle con mi bolsito de café en la espalda o cuando lo veo guindado en la pared de mi cuarto. Y eso es lo que vale al final.
I do not regret having given myself that taste, it is a beautiful bag. It is made of a good fabric and the zippers work perfectly. Similarly, I try not to force it because I want its lifespan to be as long as possible.
It is, without a doubt, one of the best purchases I have ever made. Remember that it is not a bad thing that we indulge ourselves a little, if we make an effort daily in our jobs, making a purchase that is outside of our list of needs is not a bad thing, much less if it is something that will make us happy. I am happy every time I go out with my coffee bag on my back or when I see it hanging on the wall of my room. And that's what it counts in the end.

Muchas gracias por haber visitado mi post. Espero que les haya parecido interesante.
¡Hasta una próxima oportunidad!
Thank you very much for visiting my post. I hope you found it interesting.
Until next time!