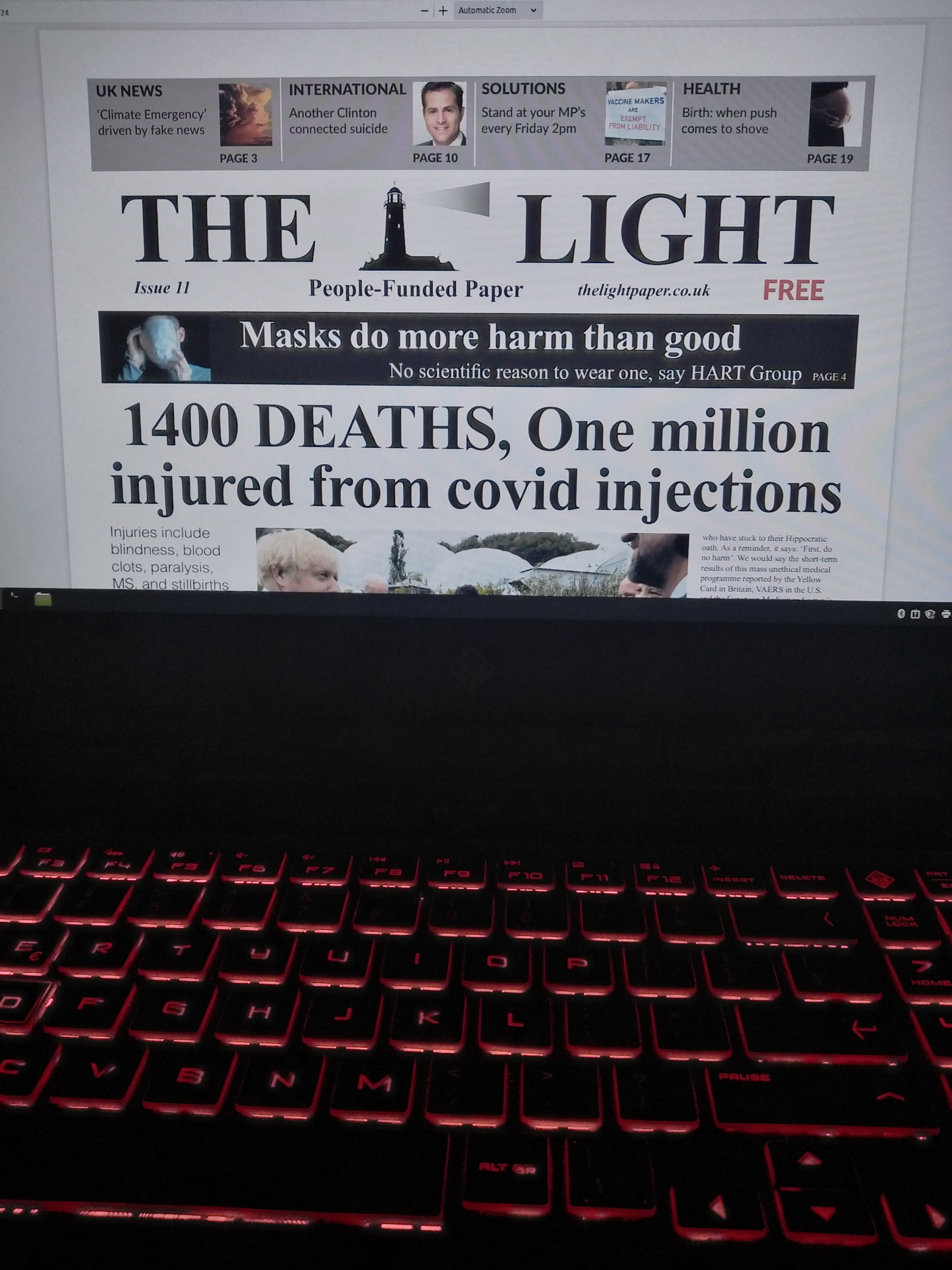 If you read my article yesterday you will know my oldest sister was asking my mother why she does not wear a mask.
I asked her why she is and asked her to stop pressuring my mother which is also her mother as I live and let live. She (my sister) is a liberal virtue signalling moron who wants to have a say in anyone's life that does not want to comply with what she is willing to comply with. (WW2 and Nazi Germany would have suited comrade oldest sister nicely.
I am now done with her forever for trying to force my elderly 80 year old mother to wear a face mask mid summer.
The knock on of this is my mother was happy with me sticking up for her and her 90 year old husband AKA step father.
So much so she went out of her way to look for alternative information away from the TV scripted news narrative re convid1984.
And she came up with the light I am happy to say.
It is free to read. Ordinary people like you and I funded and here is a link = https://thelightpaper.co.uk/assets/pdf/The-Light-11D-Miki-FINAL.pdf
It covers in this July edition many truth topics.
All factual, all well written. I do hope you at least give it a try.
"Censorship now at Orwellian levels" Is one headline.

"'Climate Emergency' driven by faulty models and fake news" Is another.

"Masks do more harm than good" Yet another.

"Corporate hypocrisy abounds" And on and on the articles go.
Here is the mask article from the above link.
"PAGE 4 UK NEWS = Masks do more harm than good WHILST masks are a successful psychological tool to remind the public to remain alert, they are not effective in preventing the community spread of disease.In the summer of 2020, mandates were introduced to compel healthy people to wear masks in the community, purportedly to reduce the spread of covid-19. Prior to this time, the World Health Organisation (WHO) and UK politicians alike did not originally support face coverings for the healthy but then u-turned, apparently in response to heavy political lobbying.
In the early stages of the novel coronavirus in the United Kingdom, public health advice remained that masks for the general public were of little benefit, and could even be harmful.
There is emerging evidence that cloth masks can amplify the spread of particles by acting as a 'microniser', transforming large droplets, which would ordinarily fall swiftly to the ground close to the person, into smaller, truly airborne and respirable droplets.As has been established in another of our articles on asymptomatic spread, for a person to be 'clinically relevant' in public health terms, they must have symptoms. The mandating of mask-wearing for the majority of the population who are perfectly healthy is not an effective public health measure to contain the spread of any disease. Prior to 2020 this was not a controversial position. Whilst masks have undoubtedly been a successful psychological tool to remind the public to remain alert, they have not achieved their primary objective, that is, to act as a safe and effective measure to curb the spread of disease.Contrary to the government message that it 'follows the science', the sudden change in advice by the WHO was not based on any new, high-quality scientific studies. By summer 2020, there was substantial evidence that non-medical masks for the general public did not reduce the transmission of respiratory illnesses. A review of 14 controlled studies had concluded that masks did not significantly lessen the spread of seasonal 'flu in the community. A Norwegian Institute for Public Health review found that non-medical masks achieve no benefit for healthy individuals, particularly when viral prevalence is low. From a common sense angle, scientists had argued that cloth masks contain perforations that are far too big to act as a viral barrier and therefore 'offer zero protection against covid-19'. Inevitably, the public often wear masks incorrectly, or improperly handle them when putting them on, or removing them, constituting an additional infection hazard. There has been recognition of this contamination risk in the scientific literature and other researchers have cautioned against the use of cloth face coverings. Potential harms to the wearer include exhaustion, headaches, fatigue and dehydration. Some doctors have suggested an increased risk of pneumonia. Furthermore, the widely varying physical characteristics of the face coverings used by people in the community, that are not standardised for material, fit, length of wearing, changes after washing and drying, and disposal, means that laboratory research on mask efficacy cannot be generalised to real world situations.With particular reference to covid-19, the only large randomised controlled trial exploring the benefits of adopting face coverings in the community found that masks (even the surgical variety) did not result in a significant reduction in infection risk for the wearer. A detailed analysis of all research investigations, including those purported to suggest that masks might achieve some benefits, led to the view that there is 'little to no evidence' that cloth masks in the general population are effective.Masks impair verbal communication, render lip-reading impossible for the deaf, and stymie emotional expression, the latter effect potentially constituting a gross impediment to children's social development. Acting as a crude, highly visible reminder that danger is all around, face coverings are maintaining widespread, irrational fear.Wearing a mask will heighten the distress of many people with existing mental health problems and may trigger 'flashbacks' for those historically traumatised by physical and/or sexual abuse.
Sadly, going without a mask (even as a means of avoiding psychological distress) can often attract harassment and further victimisation. In response to this, 'exemption lanyards' have been developed, which further stigmatise those who cannot wear face coverings due to health conditions or psychological trauma
.The government are already talking about requiring secondary-school pupils to wear masks in indoor areas for the entire day. In addition to the lack of demonstrable benefits as described above, it is most concerning that no comprehensive risk assessment of potential harms has been carried out before making these demands. Prior to imposing this requirement for masks, a full assessment should have been conducted, incorporating the following areas:•Assessment of oxygen levels in mask wearer at the beginning and end of the day•Assessment of impairments to concentration and ability to learn•Assessment of impairment to children with hearing difficulties and special educational needs•Assessment of impairment to psychological well-being•Assessment of possible damages from inhalation of micro-fibres•Assessment of potential harms of repeated use of dirty cloth masks•Assessment of impairment to non-verbal communicationMany of the potential harms may only become apparent in the long-term, thereby casting yet more doubt on the assumption that, for children, the benefits outweigh the risks. What is even more puzzling is that the masking requirement has been introduced at the time of year when there is almost no circulating covid-19 in the community due to its seasonality. There is no justification for this move from the Department for Education. It should be rapidly retracted for the safety and well-being of all children.Wearing a mask is not a benign intervention. Making masks mandatory would only be justified if science had shown they achieved a marked reduction in transmission.
The evidence is simply not there. On the contrary, it is clear that face coverings for healthy people do more harm than good. Additionally, evidence demonstrating that asymptomatic, healthy members of society are unlikely to spread the disease strengthens the conclusion that mask mandates are unnecessary."
www.hartgroup.co.uk
I still do not believe in germ "theory" Due to the name, theoretical. But at least they shed a light on the fact masks make people sick not healthy.
Big up to my mother for searching for some truth at 80 years young.
Have a superb weekend and a nice free read on me at the link above.
Been out sailing again today. Got sunburn. Not complaining, On my partners Omen laptop and it is annoying me so will have to leave this article there.
Peace and out.
Edit = Beware 'Big Brother' blockchain is worth a read.
All that glitters is not necessarily a solution THOSE in power will say:' Blockchain is a secure way for people to own and control their digital footprint, the data they create living through devices and wearable / implantable / ingestible technology in "smart" environments.'In essence, it is a digital ledger that keeps track of EVERYTHING across a decentralised computer network that is said to be permanent and secure.
Picture a real time account book that keeps track not only of your monetary assets (bitcoin – this is how most folks understand blockchain), but also civil records like birth certificates, marriage certificates, and court proceedings; voting records; property ownership; certifications and education credentials; health information including DNA, biometrics, and data from wearable technologies; public benefit access like welfare; and now even one's movements (geolocation data) and social interactions via QR code health passports and contact tracing. What I say:Whether we know it or not, when we agree to have our lives linked to blockchain, we are agreeing to live in a behaviourist panopticon, a real-life permanent 'big brother' society.In exchange for convenience and limited privileges, we will give up our free will. The future being handed to us is one that will be shaped by surveillance, artificial intelligence, predictive analytics, machine learning, and feedback loops. We risk swapping our vibrant human spirits, beautiful in their passionate creativity and flawed vulnerability, for sanitised digital twins that will be managed as human capital by callous technocrats to profit social impact investors. Before we walk through the door of permanent digital identity, we need to realise it opens onto a maze designed to disorient, confuse, and ultimately control us.We need for people to understand blockchain transcripts are one part of a much larger agenda tied to a world wide economic reboot. A goal of the World Economic Forum is to create a literal Internet of Bodies using 5G (soon 6G) and 'smart city' Internet of Things (IoT) sensors. Whether people are linked to blockchain via covid biometric health passports or education transcripts, the result will be the same. We are crossing the threshold not just into surveillance capitalism, but into full-on biocapitalism. Our bodies will be mined for data that will run massive futures markets in human capital investing. They need blockchain identity, and they need it brought to scale. However until that happens, there is still time to change course and fight for a humane economic system that respects all mankind and our future generations.Blockchain will not empower the people, it will turn us into digital commodities. Secured on immutable 'trustless' ledgers, the plan is for us to be scored, sifted, and sorted in a brutish program of fierce competition and precariousness. Make no mistake, the oligarchs value the reliability of robots over the cunning and unpredictability of humans. Universal Basic Income, and digital vouchers for education, housing and healthcare are poison apples, not solutions meant to help the masses. Blockchain is a deception, and if we take the bait, we'll end up as playable characters in an augmented reality 'game of life' cooked up by the CIA and defense contractors to benefit hedge funds. Don't fall for anything they come up with - it is never going to be for our benefit
---
Posted via proofofbrain.io
---
Posted via proofofbrain.io