---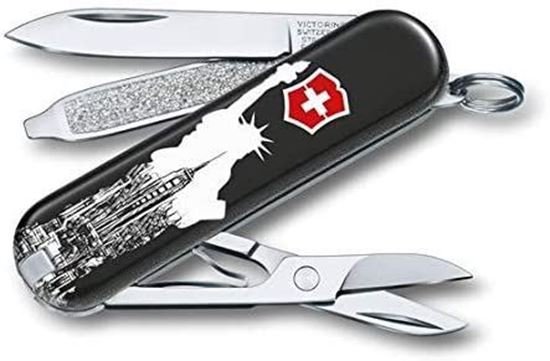 Link
---
ESPAÑOL
Hola amigos HIVE… les traigo un relato insólito... de desenlace increíble… pasemos a las bellas prosas para relatarles este episodio… 1, 2, 3… acción…
Miro por encima de mi hombro y apenas tuve la oportunidad de observar el manejo de manos, en cuyo extremo de unos de los puños bailaba una filosa navaja suiza tratando de someterme. En pleno centro de la ciudad, lleno de transeúntes compulsivos y compradores de remates, me encontraba yo tratando de acceder a la tienda, con bolsas en mano, poniendo toda mi atención al depositario de paquetes, porque la tienda estaba a reventar, por las innumerables ofertas. Forcejee con el hombre dando manotones y empujones, mientras el engendro trataba por todos los medios de enterrarme la navaja. Algunas personas se apartaron inmediatamente, otras se cayeron por los empujones. Muchos gritos se dejaron oír. Muchas miradas atolondradas buscando recodos vacíos de la acera para correr. Yo mientras tanto, me ocupaba del sujeto, haciendo movimientos de carate para zafarme de las punzantes y mortales acuchilladas. En un segundo cualquiera, se derrama una sangre fría, que salpico a todas las personas hasta más allá del redondel que se hizo con el pleito armado por el asesino. Hasta aproximadamente unos 5 metros a la redonda llegaron las gotas e hilos de sangre. Los gritos se redoblaron y la confusión se apodero de todo el accionar de ese momento. Fue hasta entonces cuando pude reavivar mis paralizadas piernas e incitarlas a responder, al verme librado por instantes del acoso del asesino, un terror se apodero de mí y corrí hacia mi costado derecho queriendo detener mi corazón acelerado, tratando de no llegar a un inevitable infarto bien justificado. Las personas ajenas se quedaron mirándome mientras comenzaba a correr, pero nadie me detenía, nadie me preguntaba, nadie me hablaba. Las aceras se hicieron estrechas mientras corría, las calles se volcaron de tráfico y yo toreaba los autos como si tenía 15 años. Al atravesar una esquina me encontré de frente con una monja, la cual se santiguo inmediatamente de verme y tan rápido lo hizo se hizo a un lado para dejarme pasar. Todo sucedió en cuestiones de segundos, pero me parecía que todos aquellos hechos sucedían en cámara lenta. Golpee la puerta de un conductor mientras la baria para salir. Unos perros que comían en un basurero, detuvieron su proceso de ingesta y comenzaron a maullar todos a la vez. No sé cuándo sucedió, pero se hizo de noche y algunos focos se quemaron cuando yo pase por el parque, unos gatos salieron saltando por entre las tapas de basuras, haciendo una algarabía de latas y de sonidos agudos. Me pare enfrente de la esfinge de Bolívar. Me curve hacia delante, lleve mis manos a las rodillas, y comencé a hacer respiraciones pausadas, para tratar de recomponerme de la larga carrera. Mi corazón parecía que había dejado de latir. Pero mi respiración me volvía hacer falta. De pronto comencé a recordar que habían tratado de matarme con una navaja suiza, y comencé a revisarme por todas partes de i cuerpo, buscando las heridas. Pero me encontré en perfectas condiciones, fue entonces cuando suspire y sentí un alivia tan grande, que comencé a relajarme y a sentirme mucho mejor. Revise mis bolsillos y me faltaba el celular. Mi reloj automático se había dejado de funcionar inesperadamente. Ya no tenía mi cartera de cuero en mi bolsillo trasero del pantalón. Por lo demás más nada inusual pude notar, solo una brisa fría golpeo mi cara varias veces, como dándome cachetadas. Mire el rostro de la esfinge del Bolívar ecuestre, le di un saludo militar, y me regrese hasta el sitio donde había sucedido los hechos, a ver si alguien se había encontrado mi cartera de bolsillo. Mientras caminaba la brisa fría no dejaba de despeinarme. Una sensación extraña me invadió, enfrente de la esfinge de bolívar parecían las 8 de la noche, y mientras camino parecen que vuelven a ser las 5 de la tarde. Bueno, pensé que se trataba del susto, había perdido la noción del tiempo. Cuando llegue al boulevard, observe a muchas personas agolpadas enfrente de la tienda. También estaba una ambulancia y una patrulla policial. Pensé que tal vez el asesino había herido a otras personas y por eso las personas seguían paradas allí, siguiendo los hechos de cerca. Comencé a caminar lentamente hasta el sitio cuando un hombre que tenía una camiseta que decía, servicio policial forense, me rebaso. Cuando llegue logre hacer que las personas me hicieran espacio para llegar hasta donde estaba el asesinado, unos contaban relatos curiosos de los hechos, otros daban información de lo sucedido, y otros miraban con asombro como otra vida se perdía en un charco de sangre. Otro hombre de camiseta del servicio policial de Forense, que irrumpió en la escena por breves segundos, levanto la tela blanca para mostrar el rostro de la víctima una vez más al oficial de la policía. Fue entonces cuando ese rostro se me hizo familiar, tenía mi cartera con mis documentos esparcida en su pecho y mi reloj de pulsera puesto y funcionando.
ENGLISH
Hello HIVE friends... I bring you an unusual story... with an unbelievable outcome... let's move on to the beautiful prose to tell you about this episode... 1, 2, 3... action...
I look over my shoulder and I barely had the opportunity to observe the hand manipulation, at the end of one of my fists a sharp Swiss Army knife was dancing, trying to subdue me. In the middle of the city center, full of compulsive passers-by and auction shoppers, I was trying to access the store, bags in hand, paying all my attention to the depository of packages, because the store was bursting at the seams, due to the countless offers. I struggled with the man, pushing and shoving, while the creep tried by all means to bury the knife in me. Some people moved away immediately, others fell down because of the thrusts. Many screams were heard. Many giddy looks for empty corners of the sidewalk to run. I, meanwhile, was dealing with the subject, making careless movements to get away from the sharp and deadly stabs. In any given second, cold blood was spilled, splattering all the people beyond the round that was made with the armed fight by the murderer. The drops and threads of blood reached up to about 5 meters around. The screams were redoubled and confusion took over the whole action of that moment. It was only then that I was able to revive my paralyzed legs and incite them to respond, seeing myself liberated for a moment from the killer's harassment, a terror took over me and I ran to my right side trying to stop my racing heart, trying not to reach an inevitable heart attack well justified. Strangers stared at me as I began to run, but no one stopped me, no one asked me, no one spoke to me. The sidewalks became narrow as I ran, the streets overflowed with traffic and I was weaving through the cars as if I were 15 years old. As I crossed a corner I ran head-on into a nun, who immediately said grace upon seeing me and as quickly as she did she stepped aside to let me pass. Everything happened in a matter of seconds, but it seemed to me that all those events were happening in slow motion. I knocked on a driver's door as I was sweeping it to get out. Some dogs eating in a dumpster stopped their eating process and started meowing all at once. I don't know when it happened, but it got dark and some light bulbs burned out as I passed by the park, some cats jumped through the garbage lids, making a ruckus of cans and high-pitched sounds. I stopped in front of the Bolivar sphinx. I curved forward, brought my hands to my knees, and began to take slow breaths, trying to collect myself from the long run. My heart seemed to have stopped beating. But my breathing was again labored. Suddenly I began to remember that they had tried to kill me with a Swiss Army knife, and I began to check myself all over my body, looking for wounds. But I found myself in perfect condition, it was then that I sighed and felt such a great relief that I began to relax and feel much better. I checked my pockets and my cell phone was missing. My automatic watch had unexpectedly stopped working. I no longer had my leather wallet in my back pants pocket. Otherwise nothing else unusual I could notice, only a cold breeze hit my face several times, as if slapping me in the face. I looked at the face of the sphinx of the equestrian Bolivar, gave him a military salute, and went back to the place where the events had happened, to see if someone had found my wallet. As I walked, the cold breeze did not stop ruffling my hair. A strange sensation invaded me, in front of the Bolivar sphinx it seemed to be 8 o'clock at night, and while I was walking it seemed to be 5 o'clock in the afternoon again. Well, I thought it was because I was scared, I had lost track of time. When I got to the boulevard, I noticed many people crowded in front of the store. There was also an ambulance and a police car. I thought that maybe the killer had injured other people and that's why people were still standing there, following the events closely. I started to walk slowly to the site when a man wearing a T-shirt that said, forensic police service, overtook me. When I arrived I managed to get people to make room for me to get to where the murdered man was, some told curious stories of the events, others gave information of what had happened, and others watched in amazement as another life was lost in a pool of blood. Another man in a police Forensic Service T-shirt, who burst onto the scene for a few brief seconds, lifted the white cloth to show the victim's face once again to the police officer. It was then that that face became familiar to me, I had my wallet with my documents spread across his chest and my wristwatch on and working.
---
Texto traducido en DeepL.com
MIL GRACIAS POR LEERME... BENDICIONES PARA TI...
---