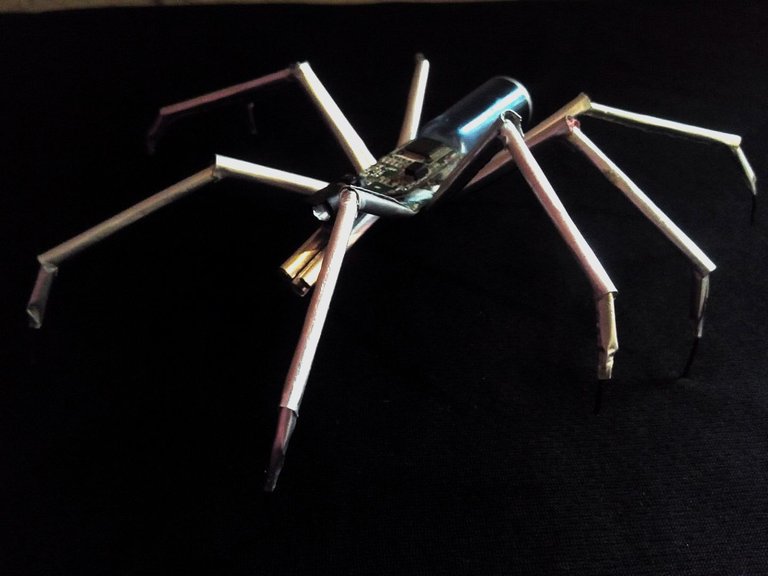 Hello dear friends of Hive, I send greetings to all those who are part of the Build-It community and who publish their beautiful works made with their own hands and a lot of creativity. I feel very happy to belong to such an active community and where more and more people are joining with a lot of creativity. This time I want to share my latest DIY work, it is a monstrous robotic spider in steampunk style. It is made with materials that I use in all my works such as soda cans and computer parts. I hope you like it and it is to your liking. I am very afraid of insects that is why I decided to make one
Hola queridos amigos de Hive, envío un saludos para todos los que hacen parte de la comunidad Build-It y que publican sus hermosos trabajos realizados con sus propias manos y mucha creatividad. Me siento muy contento de pertenecer a una comunidad tan activa y donde cada vez más se unen mas personas con mucha creatividad. En esta oportunidad quiero compartir mi ultima obra de bricolaje, se trata de una monstruosa araña robotica en estilo steampunk. Esta hecha con materiales que suelo usar en todas mis obras como latas de soda y partes de computadoras. Espero que les guste y sea de su agrado. Le tengo mucho pavor a los insectos por eso decidi hacer uno

Process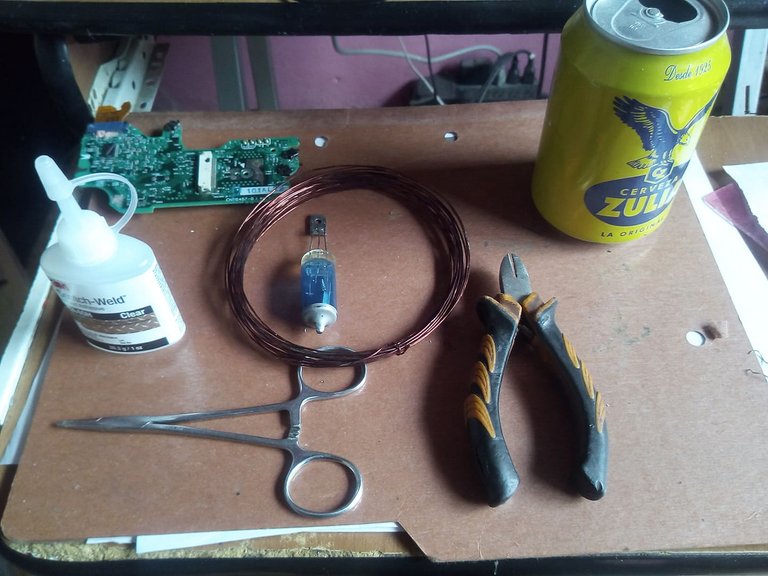 Materials:
Aluminium can
Computer board
Light bulb
Copper wire
Super glue
Tongs
Pair of scissors
Materiales:
Lata de aluminio
Placa de computadora
Bombillo
Alambre de cobre
Super pegamento
Tenazas
Tijeras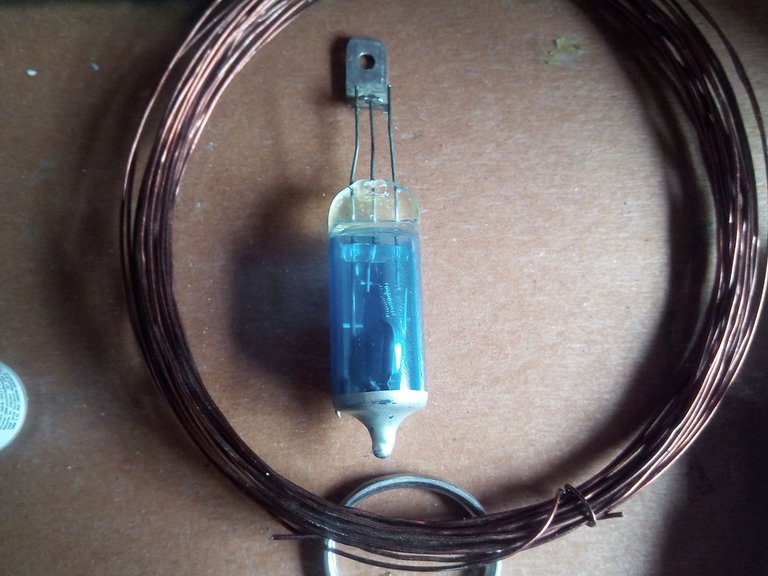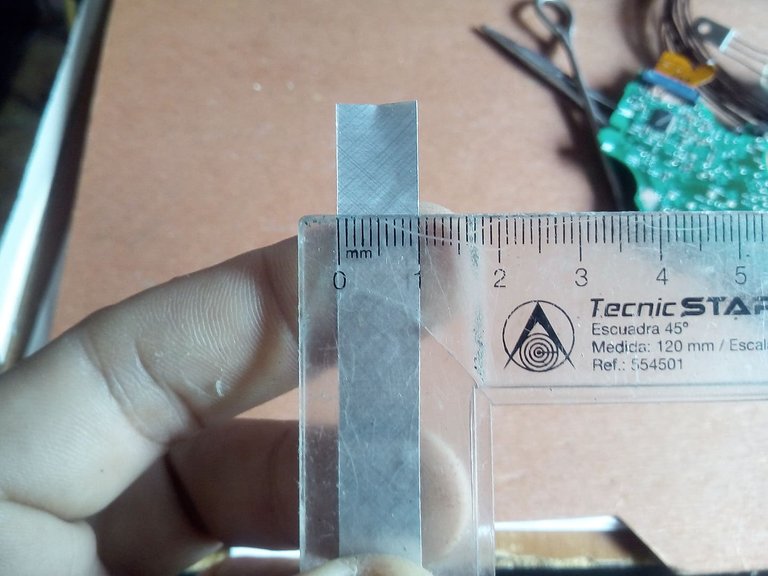 The first step is to clean the bulb very well, which will be most of the spider's body, then cut the copper that we will use, which will be little, only for the tips of the extremities. We take and cut the can and take strips that measure one centimeter and with it we will make the extremities.<-div>
El primer paso es limpiar muy bien el bombillo que será la mayor parte del cuerpo de la araña, luego cortar el cobre que utilizaremos que sera poco, unicamente para las puntas de las extremidades. Tomamos y cortamos la lata y sacamos tiras que midan un centimetro y con ella haremos las extremidades.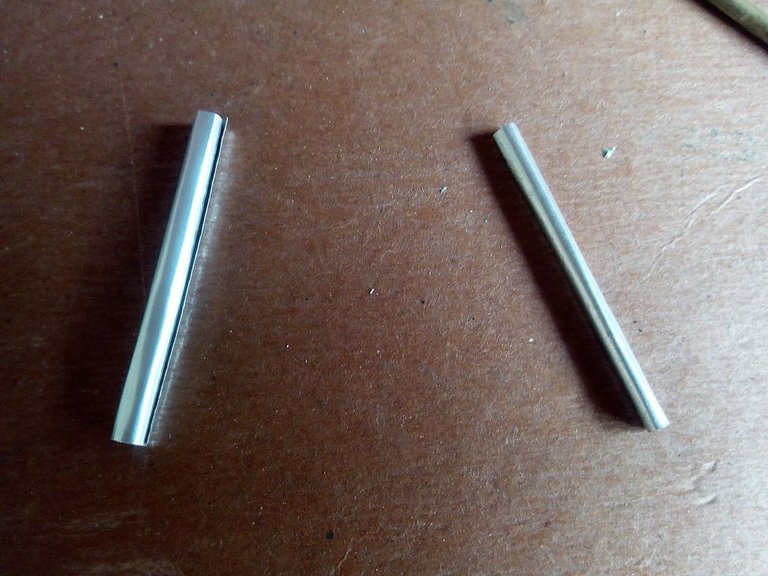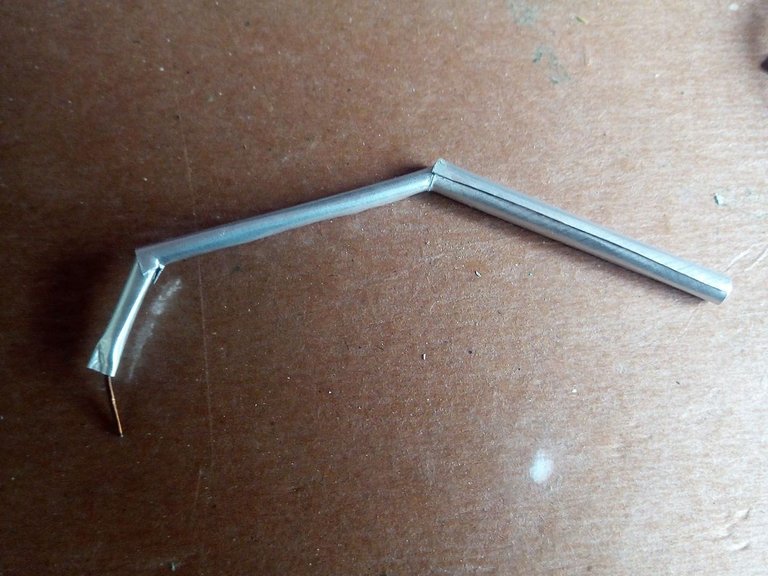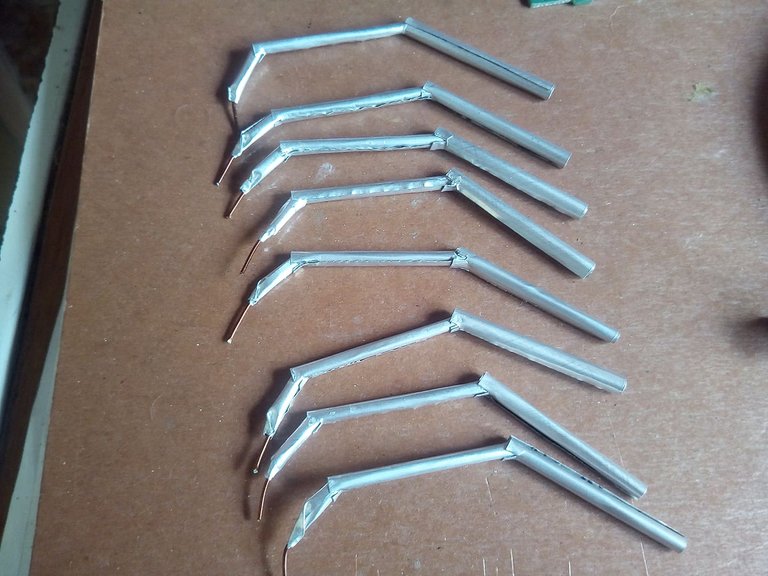 To make the limbs we cut two pieces of cans and make two tubes 4 cm long, and make a smaller one 1.5 cm long. We join them with glue for each end and at the end we will put a copper base. We will make a total of 8 tips.
Para hacer las extremidades cortamos dos pedazos de latas y hacemos dos tubos de 4 cm de largo, y hacemos uno mas chico de 1,5cm de largo. Los unimos con pegamento por cada punta y al final pondremos una base de cobre. Haremos en total 8 extremidades.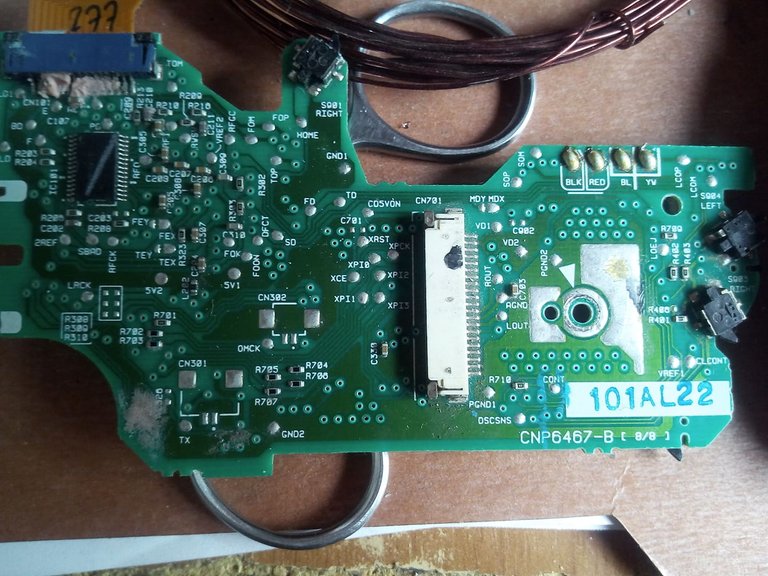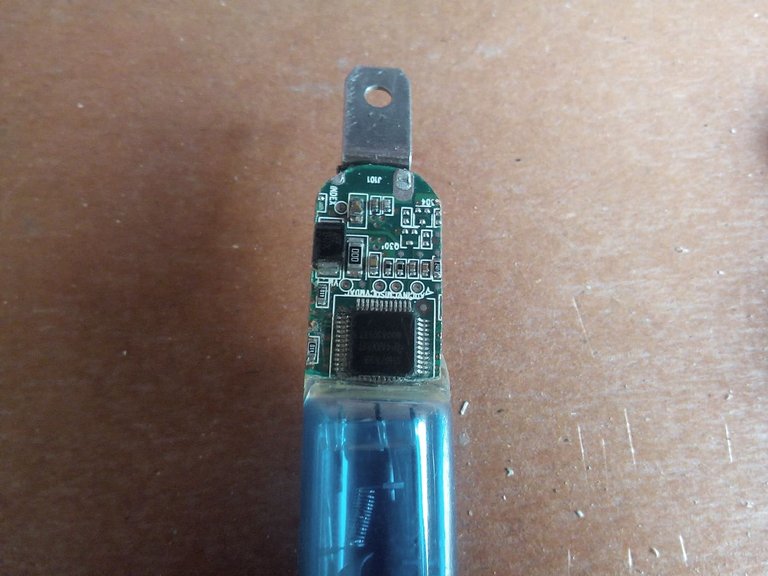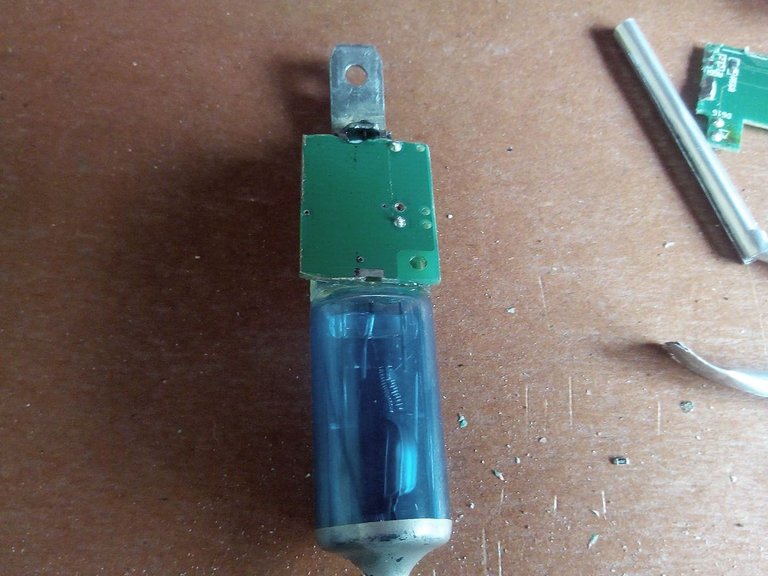 Then we begin to form the body, for this we cut two pieces of the computer plate that measure 2 cm long by 1 cm wide, we fix it to the base of the bulb with glue and let it dry very well.
Después comenzamos a formar el cuerpo, para ello cortamos de la placa de computadora dos retazos que midan 2 cm de largo por 1 cm de hancho, lo fijamos a la base del bombillo con pegamento y dejamos secar muy bien.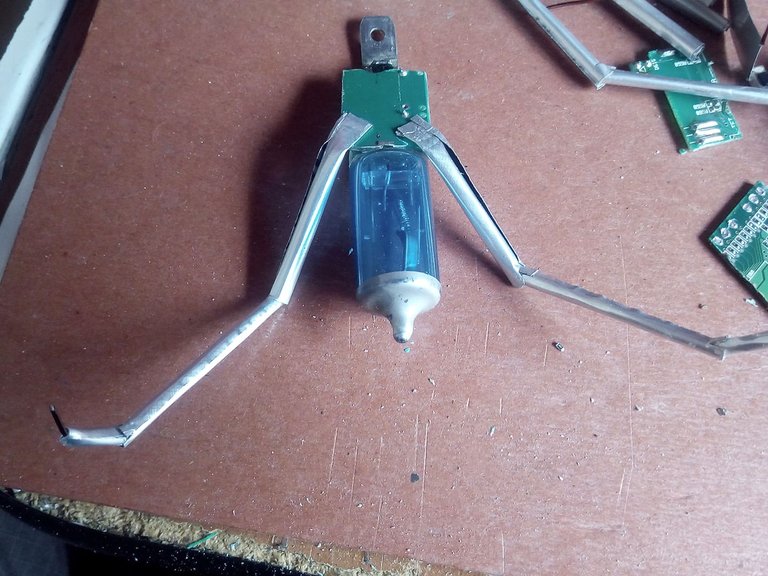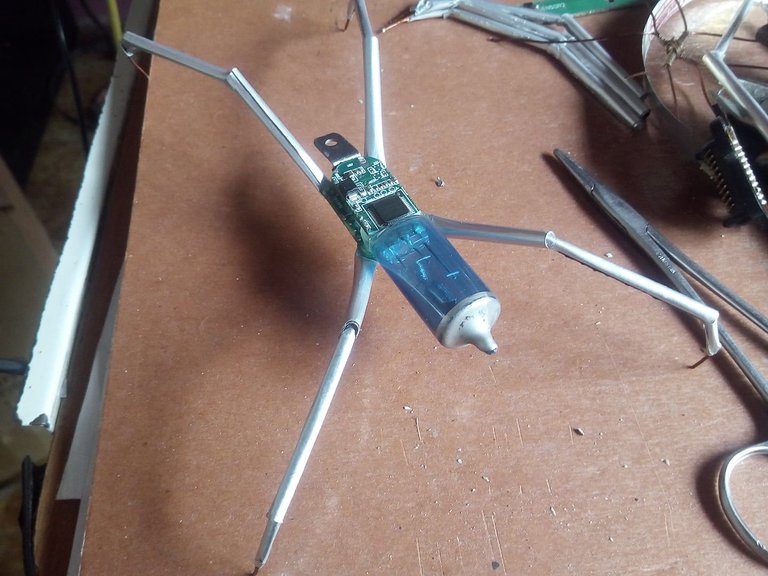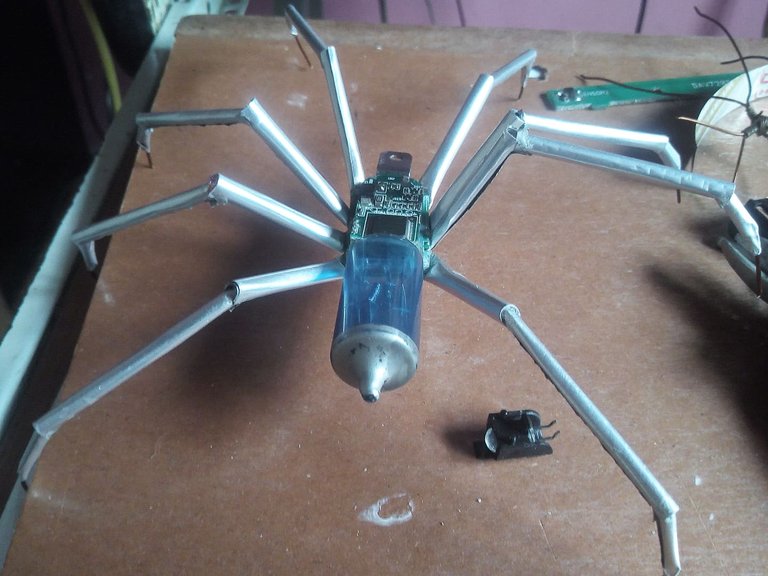 The last step is to glue the extremities. For them we take one of the tips and with a pair of tweezers we crush it until it is flat, we put a few drops of super glue and we fix it to the body of the robot. Let's repeat the process with each limb, placing them very well so that they are in good shape. Then we let it dry for a few minutes.
El ultimo paso es pegar las extremindades. Para ellos tomamos una de las puntas y con unas pinzas aplastamos hasta dejarla plana, le ponemos unas gotas de super pegamento y lo fijamos al cuerpo del robot. Vamo repitiendo el proceso con cada extremidad ubicandolas muy bien para que nos queden en buena forma. Luego dejamos secar unos minutos.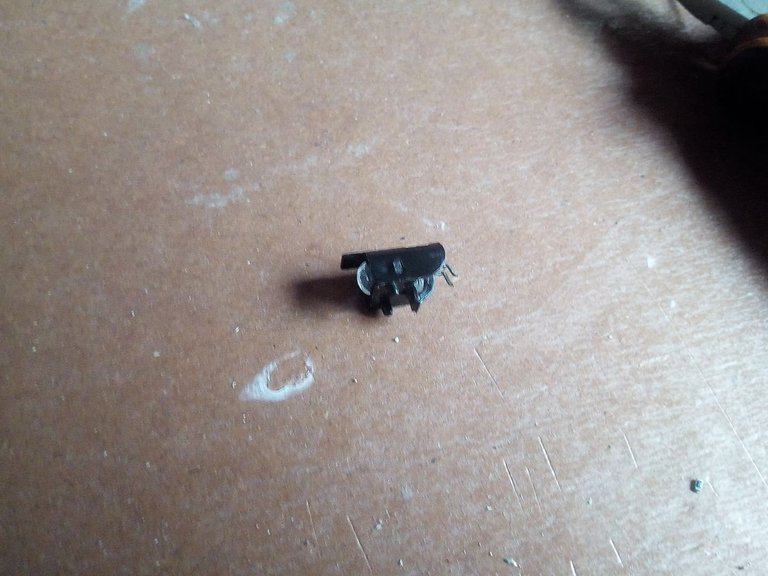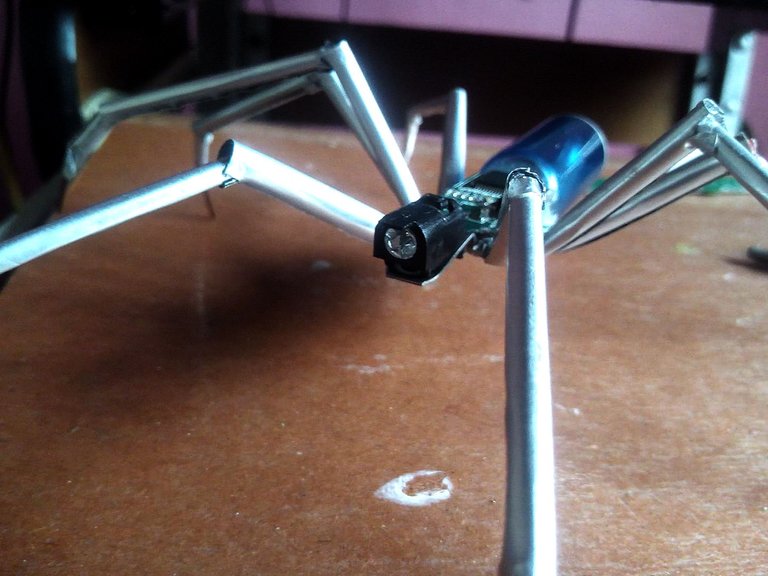 At the end I added a led light bulb to the head to give it a more robotic look and I also put 3 tubes at the bottom of the head to simulate the pliers they have in their mouth.
Al final agregué un bombillo led a la cabeza para darle un aspecto más robótico y tambien puse 3 tubos en la parte inferior de la cabeza para simular las tenazas que tienen en la boca.

Final Work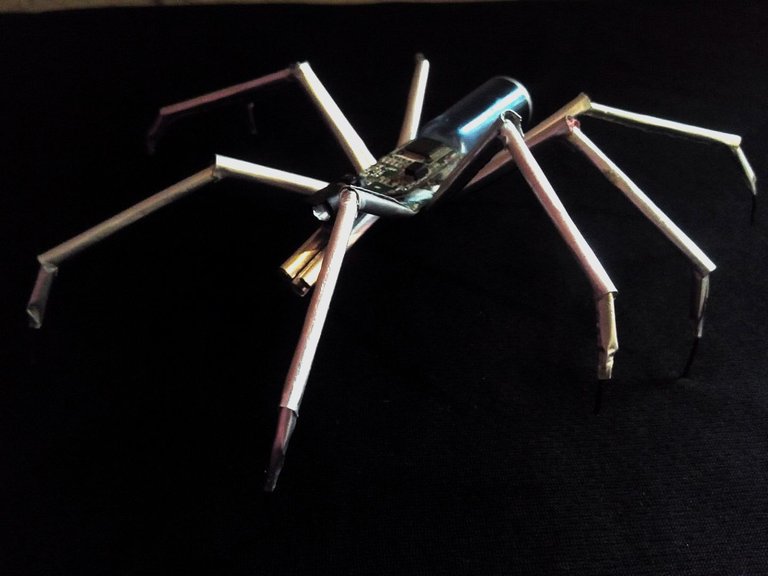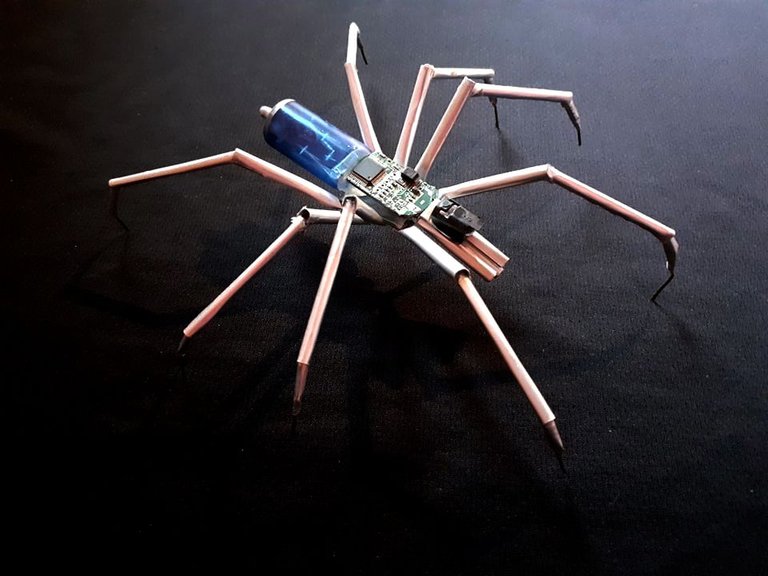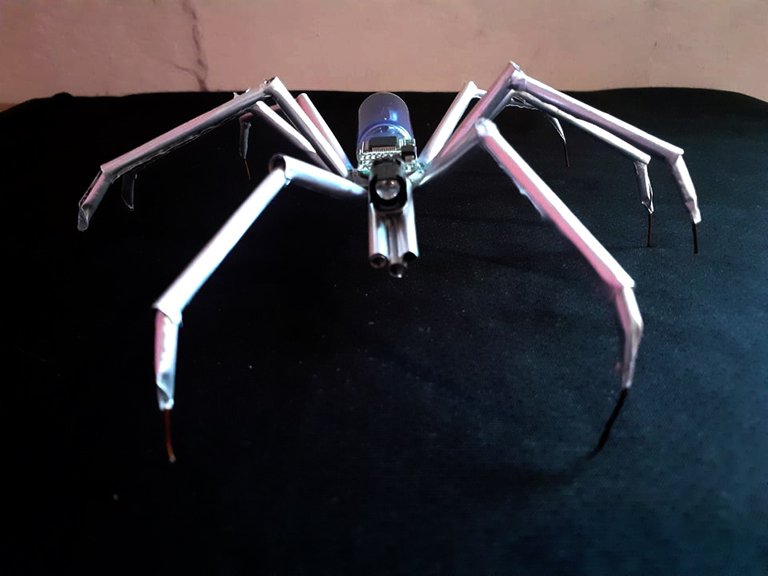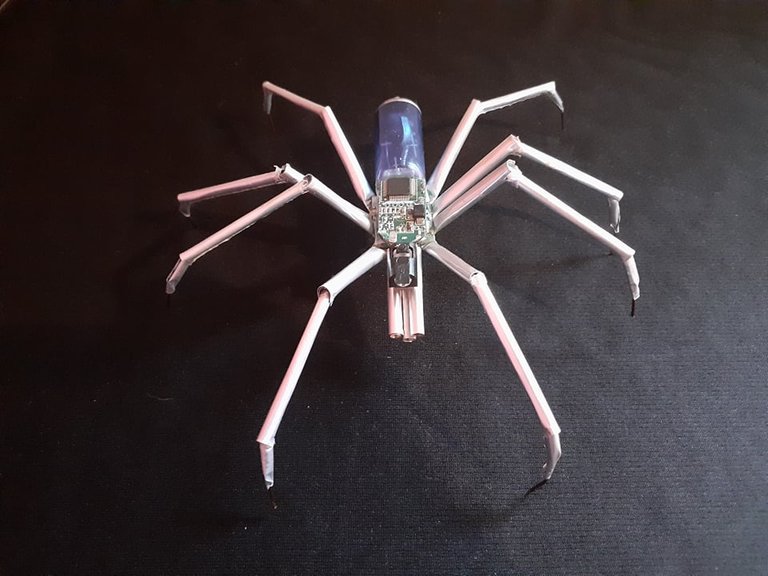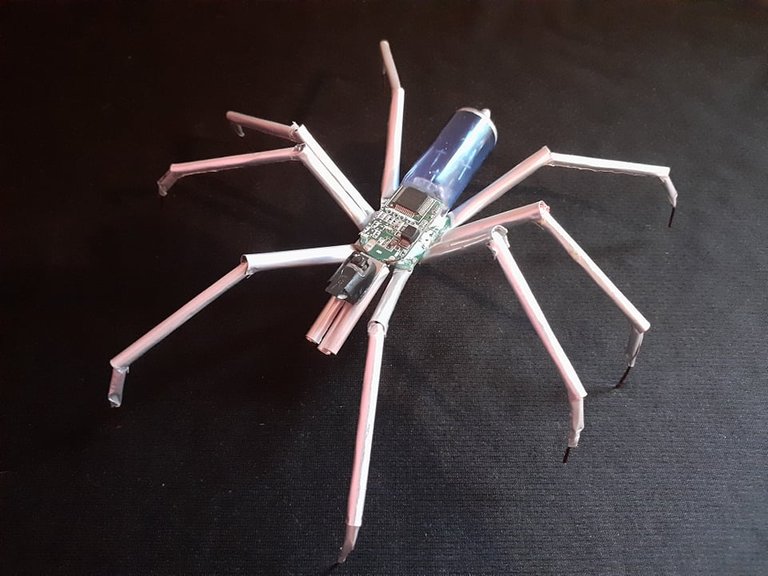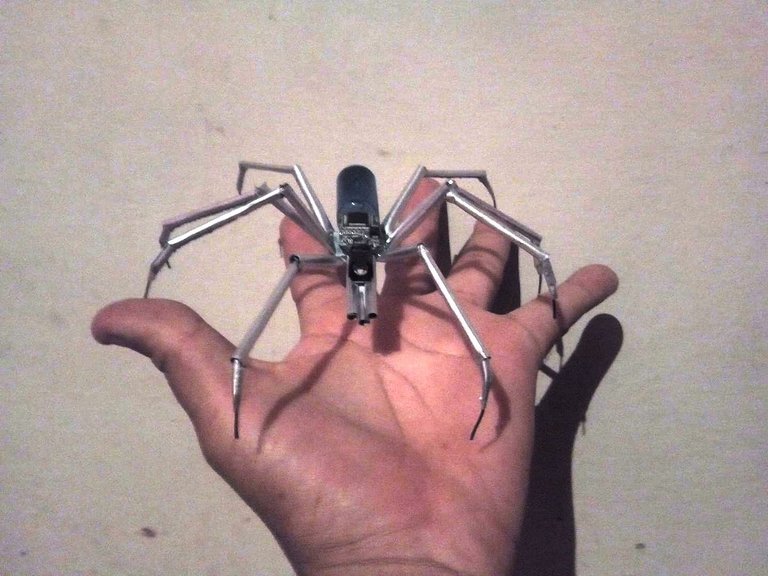 This is how this terrifying robotic spider has been, its size is impressive and very realistic, not even in my worst nightmares would I hold a real spider that way hahaha. The Steampunk style allows you to play with many materials to give objects a somewhat futuristic appearance, although it is used more in literature and in the cinema, this style of art is also found in sculpture and thanks to this I have asked for inspiration. I hope you liked my explanation of how I did it and the final results. I have been very satisfied and I think I will continue in this trend for a long time to bring new and better works to share in this community that encourages me to keep going and to be better and better, I feel very motivated.
I say goodbye to you, see you soon, you can comment what you think and if someone would like me to do something in particular I would gladly do it. See you soon friends.
Así ha quedado esta aterradora araña robótica, su tamaño es impresionante y muy realista, ni en mis peores pesadillas sujetaría de esa forma a una araña real jejea je. El estilo Steampunk permite jugar con muchos materiales para dar una apariencia algo futurista a los objetos, aunque se usa mas en la literatura y en el cine, este estilo de arte tambien se encuentra en la escultura y gracias a ello he pidod inspirarme. Espero que les haya gustado mi explicación de como la hice y los resultados finales. He quedado muy satisfecho y creo que seguiré en esta tendencia un buen tiempo para traer nuevos y mejores trabajos para compartir en esta comunidad que me anima a seguir adelante y a ser cada vez mejor, me siento muy motivado.
Me despido de ustedes, hasta pronto, pueden comentar que les ha parecido y si alguien le gustaría que hiciera algo en especial yo con mucho gusto lo haría. Hasta pronto amigos.