---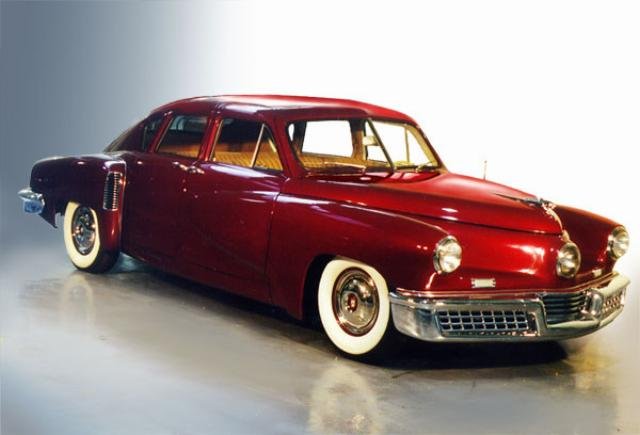 Link
---
ESPAÑOL
Este auto es la historia real de Preston Tucker, un hombre que quiso construir un auto adelantado a su tiempo, para luchar contra las corporaciones de auto de Detroit en el año 1948. Antiguo empleado de la Cadillac, Ford y Chrysler. Recibió en arriendo de una planta del gobierno en Chicago donde fueron fabricados motores para los aviones B-29. Este auto también fue conocido como Tucker sedan. Solo se hicieron 51 unidades en tan solo un año. Su producción fue detenida por problemas legales de plagio. Corren los años de la post guerra. El gobierno Norteamericano quiere deshacerse de los excedentes de la guerra y dos empresarios deciden tomar los riegos y las oportunidades, Henry Kaiser y Preston Tucker, para montar su fábrica de vehículos. El proyecto tenia avances significativos como frenos de disco, motor trasero de seis cilindros, inyección mecánica de gasolina, y tablero de instrumentos de medición alrededor del volante. Las expectativas eran demasiadas altas.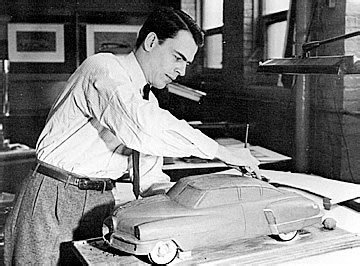 Link
Muy a pesar de haber conseguido una buena financiación, los dueños decidieron recaudar más dinero para asegurar su futuro. La idea fue poner en venta todos los accesorios por adelantado como la radio, las fundas de los asientos, tacómetros, cauchos de lujo, etc. Todo esto se hizo antes de que el vehículo saliera a la venta. Recaudaron aproximadamente dios millones de dólares. Nada debía salir mal, la lista de pedidos era interminable a lo largo de todo el país. Todo el mundo quería uno aunque solo lo habían visto a través de la prensa. También se hizo una gira de un prototipo del vehículo rodando por las calles de las principales ciudades. La fiscalía comenzó a investigar el hecho de que se comenzó a vender accesorios de un auto que todavía no comenzaba a fabricarse. Aparecieron las primeras artículos de la prensa, y la pólvora de la palabra engaño comenzó a arder en los predios automovilísticos. Llegaron los editoriales denigrando de la seguridad del auto. Esta era la misma prensa que meses antes lo había colocado en un pedestal muy alto, ahora lo hundía en el lodo del fraude. Finalmente los cargos fueron suspendidos, pero el daño estaba hecho y la producción se paró cuando 51 autos ya circulaban en las calles. La planta fue cerrada por los accionistas y acreedores. Tucker fue llevado a juicio y absuelto luego. Murió a los 56 años por cáncer de pulmón. Actualmente solo quedan 47 autos y sus ofertas en subastan han alcanzan escandalosas sumas de dinero. Los coleccionistas se pelean el poseer un ejemplar de estos autos. Vehículo que alcanzo un triunfo póstumo, increíble. En 1988 Francis Ford Coppola llevo al cine la historia de Tucker, la película fue protagonizada por Jeff Bridges, y llevó el nombre de "Tucker la historia de un sueño"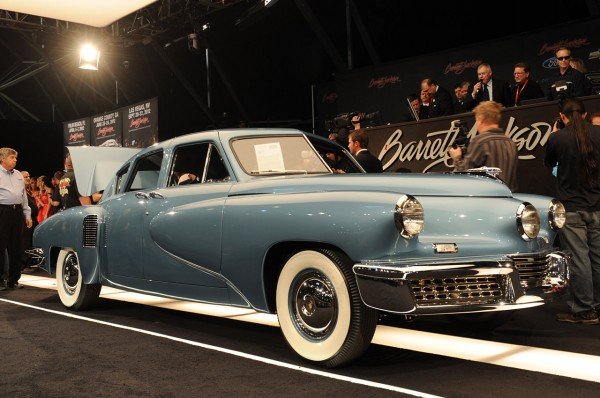 Link
FICHA TECNICA
Año 1948
Motor trasero seis cilindros
Cilindrada 5,477 cc
Potencia 166 HP 3200 rpm
Motor enfriado por agua
Torque 32 kgm 1800 rpm
Suspensión en las cuatro ruedas
Frenos de disco
Motor Franklin (usado en los helicópteros pequeños)
Caja automática de 3 velocidades
Tablero acolchado
Tenía un tercer faro central al frente del auto
Velocidad máxima 193 kmh
Aceleración de 0-100 kmh en 10 sg
Consumo 25 km galón
Largo 5,33 ancho 2,08 alto 1,65 mts
Peso 1920 kg
Precio año 1948, USD 2450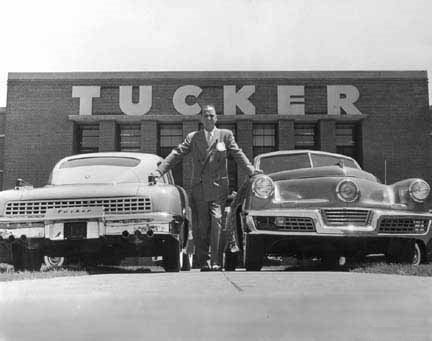 Link
ENGLISH
This car is the true story of Preston Tucker, a man who wanted to build a car ahead of its time, to fight the Detroit auto corporations in 1948. A former employee of Cadillac, Ford and Chrysler. He received a lease from a government plant in Chicago where engines for the B-29 aircraft were manufactured. This car was also known as Tucker sedan. Only 51 units were made in just one year. Its production was stopped due to legal problems of plagiarism. It was the post-war years. The American government wanted to get rid of the war surplus and two businessmen decided to take the risks and opportunities, Henry Kaiser and Preston Tucker, to set up their car factory. The project had significant advances such as disc brakes, a six-cylinder rear engine, mechanical gasoline injection, and a measuring instrument panel around the steering wheel. Expectations were too high.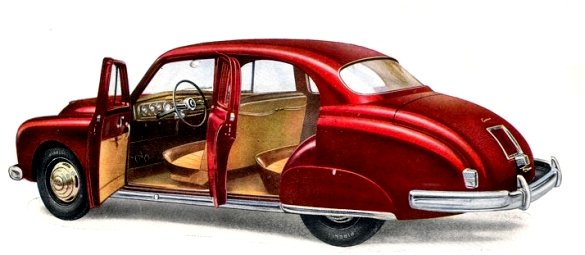 Link
Despite having secured good financing, the owners decided to raise more money to secure their future. The idea was to put up for sale all the accessories in advance, such as the radio, seat covers, tachometers, luxury tires, etc. All this was done before the vehicle went on sale. They raised approximately two million dollars. Nothing had to go wrong, the list of orders was endless all over the country. Everyone wanted one even though they had only seen it through the press. There was also a tour of a prototype of the vehicle rolling through the streets of major cities. The prosecutor's office began to investigate the fact that accessories were being sold for a car that had not yet been produced. The first articles appeared in the press, and the gunpowder of the word deception began to burn in the automotive circles. The editorials denigrating the safety of the car arrived. This was the same press that months earlier had placed it on a very high pedestal, now plunging it into the mire of fraud. Eventually the charges were dropped, but the damage was done and production was stopped when 51 cars were already on the road. The plant was shut down by shareholders and creditors. Tucker was brought to trial and later acquitted. He died at the age of 56 from lung cancer. Currently only 47 cars remain and their auction bids have reached outrageous sums of money. Collectors fight to own a copy of these cars. Vehicle that achieved an incredible posthumous triumph. In 1988 Francis Ford Coppola took Tucker's story to the movies, the film starred Jeff Bridges, and was called "Tucker, the story of a dream".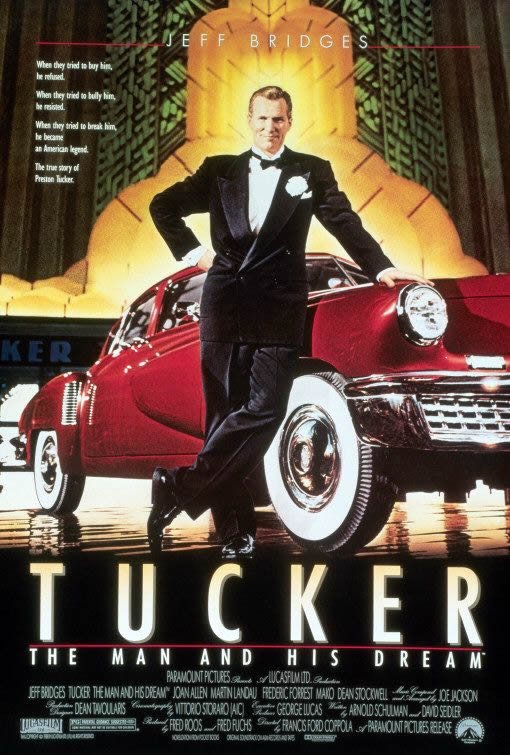 Link
TECHNICAL DATA
Year 1948
Six-cylinder rear engine
Displacement 5,477 cc
Power 166 HP 3200 rpm
Water cooled engine
Torque 32 kgm 1800 rpm
Four-wheel suspension
Disc brakes
Franklin engine (used in small helicopters)
3-speed automatic gearbox
Padded dashboard
It had a third central headlight at the front of the car.
Maximum speed 193 km/h
Acceleration 0-100 km/h in 10 sec.
Consumption 25 km per gallon
Length 5,33 width 2,08 height 1,65 mts
Weight 1920 kg
Price year 1948, USD 2450
---
Texto traducido en DeepL.com
https://www.carrosyclasicos.com/historia/item/523-tucker-torpedo-1948
https://www.retrovisiones.com/2011/04/el-tucker-italiano/
https://www.motorpasion.com/clasicos/la-historia-del-automovil-los-anos-40-y-50
MIL GRACIAS POR LEERME... BENDICIONS PARA TI...
---